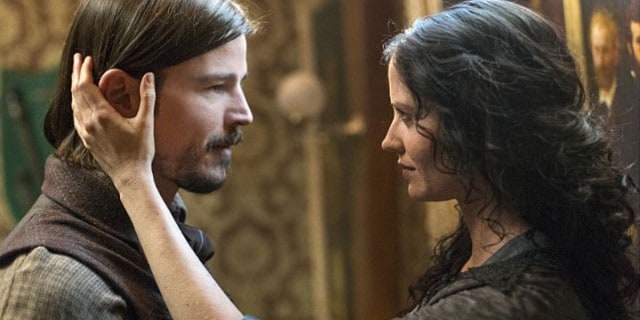 Penny Dreadful season three is going to be a little dustier, replacing its Victorian aesthetics from the first two seasons with a new setting for parts of season three: the 1800s American West. When announcing their plans to begin airing Penny Dreadful's new season on May 1st (at 10pm ET), Showtime gave us a gem of a spoiler when they revealed just how long and far Ethan's boat ride was going to be – turns out, it will be more than far enough to place him within the jurisdiction of the men he's spent two years trying to run away from. Interestingly enough, the scenes of the Wild West won't actually be shot on American shores; they'll be filmed in the city of Almeria, Spain – which isn't necessarily a big surprise, given the rest of the film is shot on location in Ireland and England, but is certainly an interesting setting for some classic Old West action.
The news of production in Spain was hardly the tip of the Penny news iceberg; the announcement also mentioned a number of new characters joining the cast this season. The Red Road's Wes Studi joins the main cast as Kaetenay, an old friend of Ethan's,who becomes an ally to Sir Malcolm; Shazad Latif (of BBC's Spooks) will be featured as Dr. Jenry Jekyll, marking the addition of another Victorian-era horror icon to the cast; and also Sam Barnett and Jessica Barden in elusively described roles, the former as Dr. Seward's young secretary, and the latter the young acolyte to Lily and Dorian Gray – needless to say, Penny Dreadful is going to look a little different and a be little bit busier than it was in season two, especially with secondary characters like The Creature, Dr. Frankenstein, and Dr. Lyle still around for some Victorian fun (RIP Sembene; you will be missed). And I didn't even mention the return of Patti LuPone!
Will it work, or will Penny Dreadful dissolve into well-dressed, intricately designed nonsense by the end of its third season? We'll have to wait until May 1st to find out what John Logan and company have in store for Caliban, Victor, Ethan, Malcolm, and Vanessa's soul this season – until then, catch up on our reviews and keep your eyes peeled for more news and spoilers (and enjoy this new teaser)!