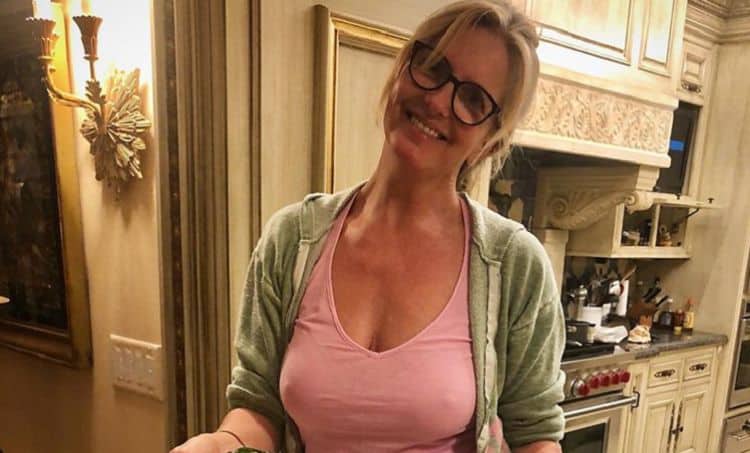 There are very few people in the entertainment industry who are able to find new ways to find new ways to stay relevant without jeopardizing their brand. Penny Lancaster is one of the lucky few. Over the years, Penny has had a successful career as both a model and photographer. However, more recently, she's generated quite a bit of buzz for her appearance on the British dance competition show Strictly Come Dancing which is known internationally as Dancing with the Stars. The show gave viewers a chance to see another side of Penny, and also proved that she's still got it. Keep reading for 10 things you didn't know about Penny Lancaster.
1. She's Worked As A Fitness Trainer
Penny was always taught to take her health and fitness very seriously. As a result, she's always been the type of person who exercises on a regular basis. Before beginning her modeling career, Penny became a certified fitness trainer. Although she doesn't work as a trainer anymore, she's still on top of her personal fitness.
2. She's A Mother Of 2
Penny has held a lot of different titles over the years, but 'mom' is the most important of them all. She is the proud mother of two sons: Aiden and Alastair. She loves spending as much time with her family as she possible can. Her husband, Rod Stewart has six other children from previous relationships.
3. She Loves Her Dogs
Penny isn't just the proud of mom of two boys, she's also the mom of two very fluffy fur babies. Her dogs, Lily and Bubbles, are prominent figures on her Instagram account and she loves sharing photos of them playing and hanging out around the house. It's actually kind of surprising that they don't have their own Instagram accounts.
4. She Wants To Be A Police Officer
Even though Penny is almost 50-years-old, she's planning on making a major career switch. She has recently shared that she's working towards becoming a police officer. Penny said, "I did a show called Famous And Fighting Crime where I was involved with the police. It was terrifying, terrifying, but I never felt more comfortable in a position and I felt like this was where I was supposed to be. I have actually signed up to be an officer."
5. Her Relationship With Rod Stewart Started With A Dare
Have you ever looked back at how one of your relationship started and been surprised how far it's come? This is probably a feeling that Penny Lancaster has quite often considering the fact that her relationship with Rod Stewart started as a dare. When discussing how she and Rod met, she said, "It was a dare from a mate to go up to him [Rod] and ask for an autograph. Then the next night I got an invitation to go to a concert and photograph him." Although they exchanged numbers at the time, Stewart didn't actually call Penny for another six months.
6. Penny Has Alway Wanted To Be A Mother
When Penny became a mother, her life was officially complete. Although she accomplished lots of impressive things throughout her career, the main things she's always wanted was to have children and start a family. Penny is fortunate to be one of the people who can say that all of her dreams have come true.
7. She's Traveled The World
Penny is a very adventurous person who enjoys living life to the fullest. She enjoys bike riding, hiking, and swimming. Traveling is also one of her favorite things to do and she's been able to visit some amazing places all over the world. Some of her favorite places to visit Tanzania, Monaco, and Sicily.
8. She Was A Victim Of Sexual Assault
In 2017, Penny Lancaster revealed that she had been sexually assaulted when she was a teenager. Lancaster says she was assaulted by someone she was working for at the time who promised to help her with career opportunities. After the incident, she says she was afraid to tell her parents out of fear they might blame her for going to the man's house in the first place. She now hopes that by sharing her story, she can help young women who may be in similar situations.
9. She Fears Growing Old Alone
Penny Lancaster and Rod Stewart have a nearly 30 year age gap. Now that Rod is in his 70s, Penny admits that she's often grappled with the reality that she will likely spend her old age alone. She says, "My life is based on the family. On occasion I think, when I'm Rod's age, I won't have my husband and the children will be grown up and gone and I have to prepare."
10. She Almost Married Someone Else
When Penny and Rod met, she was actually engaged to someone else. During the 90s, Penny dated a man named Mickey Sloan and the two even spent a couple of years living in Bermuda together and had plans to get married. However, they parted ways in 1999.