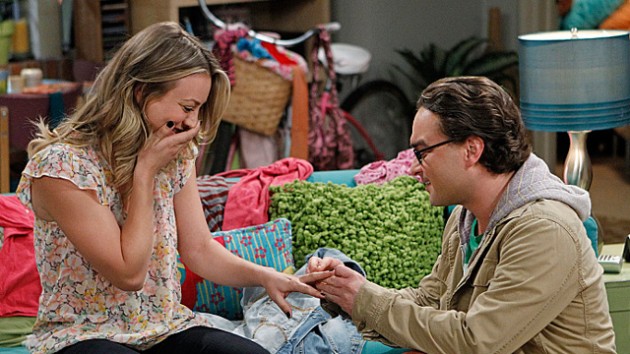 Fans of The Big Bang Theory shouldn't get too excited about Penny and Leonard's impending nuptials just yet.
Although the couple finally got engaged at the end of season seven of The Big Bang Theory back in May, the series' showrunner Steven Molaro has told TVLine that it's not very likely that the two of them will actually be getting hitched during season eight.
"I can't say for sure, but I doubt it," Molaro said. "They're in a great place. They're the kind of couple where they can be engaged for a while and that's fine."
According Molaro, Penny will have too much going on to plan her and Leonard's wedding, starting with a new job that Bernadette helps get her during the season eight premiere.
"In the first episode back, she will embark on a brand new career, and that will be taking up a lot of her time and energy," Molaro explains. "Bernadette has helped to get her a job as a pharmaceutical sales rep at her company. She is going to put her failed acting career on the backburner for a while."
Molaro promises that, despite what some fans may think about Penny hitting the pause button on her acting pursuits, she is actually "extremely well suited for" her new position as a sales rep, "whether she realizes that yet or not."
"She's cute and flirty and gets along with people, and she's great at memorizing lines," he continued. "This is a job that will fit her personality and talents well."
Season eight of The Big Bang Theory premieres on CBS on Monday, Sept. 22.
Photo via CBS