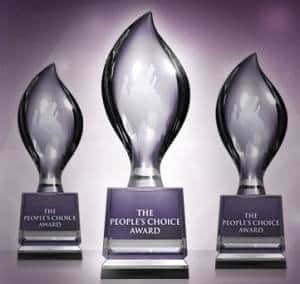 The People's Choice Awards will be airing tonight beginning at 9:00 p.m. EST and I'll be here to live blog the event, so keep refreshing this page for updates throughout the show.
Several well-known actors and actresses are confirmed to attend, including Malin Akerman, Julie Bowen, Michael Chiklis, Miranda Cosgrove, Kaley Cuoco, Taye Diggs, Lisa Edelstein, Zac Efron, Neil Patrick Harris, Teri Hatcher, the Kardashians, Minka Kelly, Mila Kunis, Ashton Kutcher, Hugh Laurie, Taylor Lautner, Zachary Levi, AnnaLynne McCord, Leighton Meester, Stephen Moyer, Conan O'Brien, Jerry O'Connell, Jim Parsons, Pauley Perrette, Katy Perry, Natalie Portman, Emma Roberts, Kristen Stewart, Taylor Swift and Kate Walsh. Diddy-Dirty Money and Kid Rock are both expected to perform.
Shows like True Blood, Modern Family, Hawaii Five-0, The Vampire Diaries, Bones, Fringe and Supernatural are up for different awards, including TV Obsession, Favorite TV Family, Favorite New Show, Favorite TV Drama, and Favorite Sci-Fi show.
You can also view a list of the 2011 People's Choice Awards TV nominees here. If you'd like to check out the red carpet, which unfortunately isn't airing on TV here in Canada, you can watch a live stream here.
Check back beginning at 9:00 p.m. EST for our coverage of the awards!
9:05 Host Queen Latifah reveals that the fans cast 175 million votes for the PCA. VERY impressive. Jennifer Aniston walks out to present the first award. Her hair, as usual, looks fabulous.
9:06 Favorite Comedic Actor: Adam Sandler wins. He tells a not-really amusing joke before telling Aniston that she looks fantastic and making an unfortunate joke to plug their new movie. Oh, Adam. Favorite Comedy Movie: The Grown Ups. No fanfare for this award, Aniston tacked it onto Sandler's acceptance speech.
9:13 They're no longer revealing the winners through envelopes, but on smart phones. Latifah makes 3 shameless plugs for various sponsors.
9:14 Mila Kunis is so, so pretty, but her olive color dress is not doing her any favors. She announces the winner of Favorite Talk Show Host: Conan O'Brian. Considering the hassle this guy went through last year with NBC, I'm thinking he deserves it. His acceptance speech is pretty amusing.
9:22 Elton John is on stage to present an award. On a side note, I once saw Elton in concert and he's a fabulous performer in person. Favorite Country Artist: Taylor Swift. Her dress is okay, but I feel like she looks like she's about to slap on some skates and perform.
9:25 Selena Gomez and her band performs "A Year Without Rain". I am not between the ages of 10-18, so I am unfamiliar with Selena Gomez's singing career and her songs.
9:36 Kate Walsh is appearing in a filmed sketch with Latifah. It's the funniest thing that's happened yet. Taye Diggs also makes everything better.
9:38 Kate Walsh and Taye Diggs step up to the stage to present Favorite Comedy TV Actor: Neil Patrick Harris! They stay on to present Favorite TV Comedy Actress: Jane Lynch. It's also announced that Glee won Favorite TV Comedy.
9:45 I can understand why they don't want to made a big to-do of announcing the winner for every award, but I find it odd that they just tack on the movie/show winner to other awards.
9:50 Favorite Viral Video: "Single Ladies Devastation". HAHA! A little boy cries when his dad tells him he's not a single lady and he stops singing the song. Why is this the first time I've seen this?!
9:51 Emma Roberts & Zachary Levi take the stage. Favorite Drama TV Actress: Lisa Edelstein. Favorite TV Drama: House.
9:55 Taylor Swift returns to the stage. She is still not on skates. Favorite Movie Actor: Johnny Depp. Only in the People's Choice Awards would Taylor Lautner ever get nominated in the same category as DiCaprio and Depp.
10:02 Latifah heads out to the crowds to greet the Kardashians. Bad jokes ensue. The sisters try to keep it going. This is ill-advised.
10:05 Jim Parsons & Miranda Cosgrove take the stage. I loved Miranda's guest appearance on The Good Wife. Favorite Movie Star Under 25: Zac Efron. Oh no! His beautiful hair is so short! When did this happen? Did I forget to pick up In Touch last week?
10:17 Favorite TV Guiltiest Pleasure: Keeping Up With the Kardashians.
10:18 Kid Rock takes the stage to perform "God Bless Saturday"
10:30 Pauley Perrette announced Favorite New TV Drama: Hawaii Five-0. Favorite New TV Comedy: Sh** My Dad Says. It's amusing that Pauley struggled for a moment as to whether to pronounce the first word.
10:32 Stephen Moyer and Malin Ackerman take the stage. Favorite Movie Actress: Kristen Stewart. Her dress is so short.
10:43 The cast of Twlight looks awkward when called out by Latifah. I feel their pain.
10:47 Michael Chiklis is shaking his butt up on the stage. Favorite Female Artist: Katy Perry. Her dress is colorful, like she's going to an 8th grade dance. On anyone else it would look ridiculous. It looks ridiculous on her, but she can somehow pull it off.
10:56 Favorite Movie: Twilight: Eclipse. No, seriously. Instead of Inception.
You can view the full list of winners here.