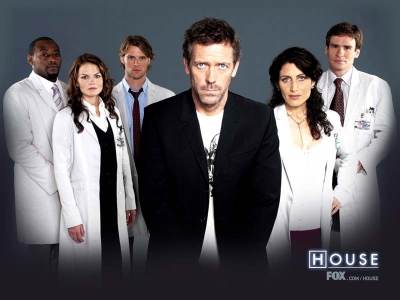 The '˜people'love FOX — at least according to the People's Choice Awards. FOX Emerged as the number one network considering the number of awards won by their various nominees, with CBS a distant second and NBC and ABC notably under-represented. As far as the more significant categories are concerned, it was FOX and CBS in an even split with FOX winning Favorite TV Drama for House M.D. and TV Comedy for Glee, but CBS taking top honors for Favorite New TV Drama for Hawaii Five-0 and $#*! My Dad Says. Here are the full results:
FAVORITE TV DRAMA: "House M.D."
FAVORITE TV DRAMA ACTOR: Hugh Laurie
FAVORITE TV DRAMA ACTRESS: Lisa Edelstein
FAVORITE TV COMEDY: "Glee"
FAVORITE TV COMEDY ACTOR: Neil Patrick Harris
FAVORITE TV COMEDY ACTRESS: Jane Lynch
FAVORITE COMPETITION SHOW: "American Idol"
FAVORITE TV CRIME DRAMA: "Lie to Me"
FAVORITE TV CRIME FIGHTER: Tim Roth – "Lie to Me"
FAVORITE SCI-FI/FANTASY SHOW: "Fringe"
FAVORITE TALK SHOW HOST: Conan O'Brien
FAVORITE TV OBSESSION: "Dexter"
FAVORITE TV GUILTY PLEASURE: "Keeping Up with the Kardashians"
FAVORITE TV GUEST STAR: Demi Lovato – "Grey's Anatomy"
FAVORITE TV DOCTOR: Gregory House – Hugh Laurie
FAVORITE TV FAMILY: The Simpsons – "The Simpsons"
FAVORITE FAMILY TV MOVIE: "Camp Rock 2: The Final Jam"
FAVORITE TV CHEF: Rachael Ray
FAVORITE NEW TV COMEDY: "$#*! My Dad Says"
FAVORITE NEW TV DRAMA: "Hawaii Five-0"
On the acting front, FOX dominated with wins for Hugh Laurie and Lisa Edelstein in Dramatic Acting awards, but split the Comedy acting categories with CBS who received a win for Neil Patrick Harris. Jane Lynch predictably won for Glee.
The People's Choice Awards are awarded based on votes received from real world viewers, mostly through the internet. That fact begs the question: can The People's Choice Awards be rigged by tech savvy fans? We asked the question of whether any particular online fandom is more potent than another, and The People's Choice Awards seems to be answering that for us. Whether the contest can be rigged or not sort of pales as a question in the face of whether franchises can succeed over artistic merit. The lack of a Twihard like movement, for instance, surely cost Inception what many consider its rightly place as Favorite Movie — while fans of FOX's Fringe no doubt converted their anxiety over cancellation talk into a hearty voting campaign to snare its place over HBO's True Blood, which has a large and diverse fandom when you count in the millions of literary fans.
Regardless of the why, there can be little argument that The People's Choice Awards are far more plucked from the zeitgeist than the more industry-peer ceremonies such as The Emmy's or the Academy Awards. So what do the people say? Are The People's Choice Awards more important than The Emmy's, The Golden Globes, and The Oscars? Do the People's Choice Awards winners represent your choices? Vote and sound off.
[poll id="34″]