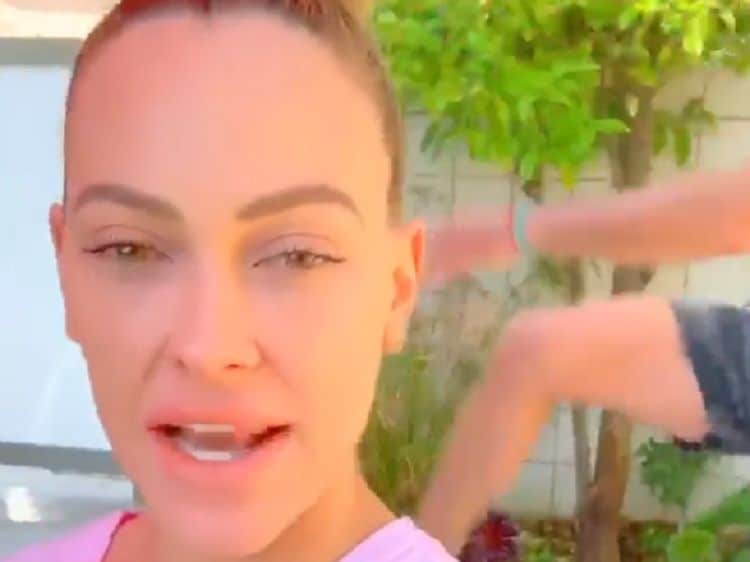 ABC's "Dancing With the Stars" is back for its 28th season. The popular dancing contest will air this season's first episode on September 16 at 8:00 pm ET. The show did not air a season lasst Spring as it usually does, so fans are excited to see this Fall's season. This season will feature a variety of random stars including "The Bachelorette's" Hannah Brown, the NBA and former husband of Chloe Kardashian Lamar Odom, supermodel Christie Brinkley, and former White House Press Secretary Sean Spicer. Fans of the show are just as excited to find out who the professional dancers will be. Peta Murgatroyd returns after the birth of her son. Here are 10 things you didn't know about Peta Murgatroyd.
1. She's from New Zealand and Australia
Peta Murgatroyd was born in New Zealand on July 14, 1986 to parents Derek and Suzanne. The family moved to Perth, Australia before Peta was 2 years old. As a young child, Peta was drawn to dance. She began taking classical ballet lessons when she was 4 years old and clearly had talent. She trained successfully under Madame Lubov Nikonorenka with the Kirov Ballet for the next 12 years.
2. Her ballet career was cut short
After studying classical ballet throughout her childhood, Peta Murgatroyd suffered an ankle injury that ended her hopes of becoming a ballerina. She turned to Latin ballroom dancing. All of this happened in 2002 and Peta won the Western Australian Amature Latin State Championship in 2002. As she continued to study ballroom dance, she won the competition again the following year. She continued her success at dancing winning second place at the Great World City Championship, placing in the semi finales of the Lion City Championships in Singapore and as a finalist in the Australian Open Championship. In 2005 Peta won third place in the Youth Under 21 Latin Competition in the World Blackpool Dance Festival.
3. Burn the Floor
In 2004 Peta Murtgatroyd joined the cast of "Burn the Floor". "Burn the Floor" is a live dance show that began with a performance in 1997 at Elton John's birthday party. Harley Medcalf, an Australian producer was inspired by the show and helped produce it for an Elton John's Aids fundraiser. Medcalf continued to build the show an d make it more theatrical. The show debuted at New York City's Radio City Music Hall in 2000. After joining the cast in 2004, Peta would tour the world with the show for the next 6 years. The show began performing at Broadway's Longacre Theater in July 2009. By this time the show featured many cast members from "Dancing With the Stars" which premiered on ABC in 2005. The Broadway production starred Maksim "Maks" Chmerkovskiy and Karina Smirnoff who were engaged at the time. Peta as also in the show.
4. Dancing With the Stars
Peta Murtgatroyd was hired as a troupe dancer on "Dancing With the Stars" in its twelfth season. By the thirteenth season Peta became a regular cast member on the show. Peta's partners included Donald Driver, Nick Lachay and Nyle DiMarco. She and DiMarco won. When she performed with Nick Lachay, her boyfriend Maksim Chemerkovskiy was partnered with Nick's wife Vanessa. Peta won "Dancing With the Stars" Crystal Ball in Seasons 14 and 22.
5. Relationship with Co-Star
Peta and Maksim Chemerkovskiy met while performing in "Burn the Floor". When the show was on Broadway in 2009, "Maks" was engaged to his dancing partner Karina Smirnoff. The couple broke of their engagement in 2009 and refused to perform together in the production. Peta and Maks had known each other for many years as professional dancers and choreographers and while appearing on "Dancing With the Stars". They didn't begin dating until 2012 however.
6. Son Shai
Shai Aleksandre Chemerkovskiy was born in June 2016. Both Peta and Maks were elated by the birth of their son. Peta has explained that they named him Shai which Hebrew for "gift". She also explained that his middle name was very important to her because Maks did not have a middle name. Aleksandre is Maks' dad's name. Both Maks and Peta continued to perform on "Dancing With the Stars" for another couple of seasons. They enjoy spending time as a family.
7. Marriage
Peta and Maks were married on July 8, 2017. Their wedding took place at a Long Island, New York castle with 300 guests including several of their friends from "Dancing With the Stars". The bridal party included Maks' brother, Valentin, also a professional dancer on the show and friend Rumer Willis who appeared as a star on the show in its 20th season.
8. Lifestyle Blog
Maks and Peta last appeared on "Dancing With the Stars" in Season 25. They have been enjoying their time off together as a family but have also been busy with other projects. They perform regularly in dance shows. Peta Murgatroyd has been busy working on her blog and her husband contributes to it. The lifestyle blog is called "All Things Fam and Glam". Peta offers parenting, health and style tips in the blog. She hopes to offer tips that will help her readers find balance between parenting and a healthy and stylish lifestyle.
9. Acting
Peta is also acting. She appears in "Hope, Faith & Love" which premiered in theaters on March 15. She stars in the movie as a dance instructor who can't afford to keep her dance studio open. She enters a dance competition with a widower to get the money to keep her studio open. It's the perfect role for Peta to combine her love of dance and choreography with acting. She's interested in other acting projects and hopes for a role in a superhero movie.
10. Return to Dancing With The Stars
Peta Murgatroyd is excited to return to this season's "Dancing With the Stars" after two seasons off. Peta is definitely excited to return the show this season. She's enjoying every moment of her life and the exciting things happening.