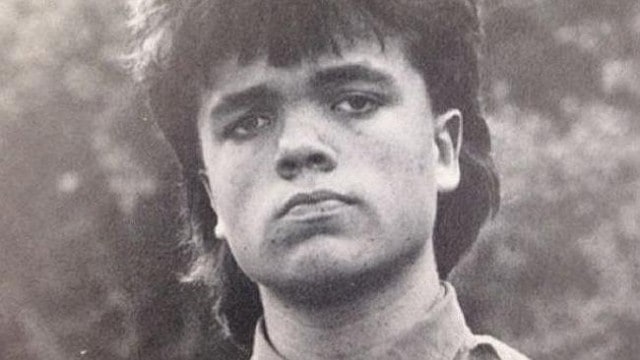 Just when you thought Peter Dinklage could not get any more awesome, here is his 1987 yearbook photograph.  And no we don't care how many times you've seen this photo.  It HAS to be analyzed.  Notice the confident stare, the boyish face, and, oh yeah, the crazy mullet that Dinklage is rocking. The results are in, and yes, here they are: this is the greatest picture I've ever seen.
Now, we all know Peter Dinklage is an amazing actor (if you're not watching Game of Thrones right now and savoring ever single second of his performance as Tyrion, you're not living life the right way), but what I didn't realize was how stylish the guy was. 1980s or 2010s, it doesn't matter the year – Peter Dinklage is a stud. What's also amazing about this photo is it looks like Peter Dinklage has barely aged at all. In almost 30 years, he really doesn't look much different, and as an actor in Hollywood, that certainly must be a plus.
Ultimately this photo just confirms what we all already knew: Peter Dinklage is the man and the pinnacle of cool. I think it says a lot that Dinklage, who used to only get parts in films like Elf because of his height instead of people actually judging him for his talent, has essentially squandered that entire conversation and entirely transformed his career. He never lets his condition (he was born with achondroplasia, a common form of dwarfism) overtake his incredible acting abilities or his genuinely charming personality.
Through his performance as Tyrion on Game of Thrones and other roles in films, such as X-Men: Days of Future Past, along with the way he speaks in interviews and at award shows, Peter Dinklage has made sure that people take him seriously as both an actor and a person, something that everyone should have done from the beginning of his career. Although I will say this, it'd be hard for Dinklage, or anyone at all, if he still had his 80's haircut today.
Photo via imgur