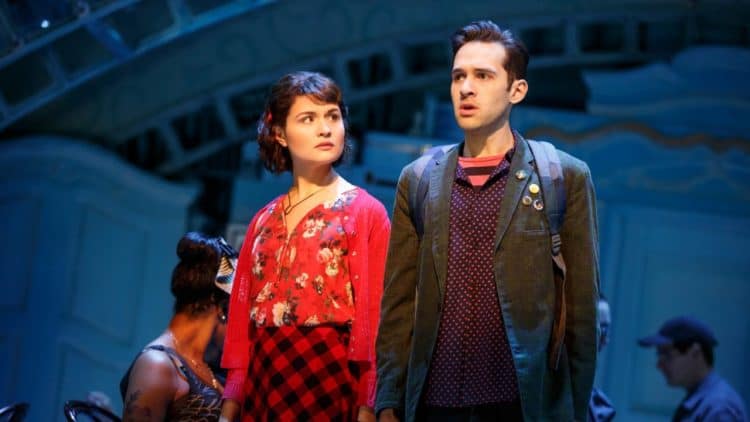 Normally you don't expect stage actors to forget their lines if they get to be as big or as popular as Phillipa Soo, but upon looking at the clip on Theatermania when she explains how she froze during Hamilton you can see how she seemed to lose herself for a moment. Considering how big a deal Hamilton really is however and the fact that Soo originated the role of Eliza one might think that she would be unflappable, but while on the Late Show with Stephen Colbert she actually admitted that she was completely taken off guard upon meeting Julie Andrews after a show. This shows that not only is she human and can make mistakes but that she's just as enamored of the other stars as a lot of people have become of her. She's also taken to starring on TV as she continues to hone her skills and appears in The Code as has been reported by Genesis Johnson of Playbill. As of right now it would seem that her career is on a serious upswing and there doesn't seem to be any limit in sight.
Here are a few things about Phillipa you might not have known.
10. She was nominated for a Tony award in 2016.
This a big deal to any stage performer since it's the moment that one realizes that they've been recognized for their talent and given the respect that so many people hope for but might not achieve. Even being nominated is an honor since it means that more than a few people happened to like what she did.
9. Her parents encouraged her acting career but insisted that she put her studies first.
This is what many parents should likely be telling their kids since education is key when it comes to life no matter what profession you walk into. Following your dreams is important and fulfilling when it finally happens but gaining the needed skills for said profession is vital.
8. Soo graduated from Juilliard in 2012.
Some people might go so far as to downplay this accomplishment largely because a lot of people in show business have done this and made it work for them, while some have done it and haven't gone anywhere. But like any educational institute it's impressive to see people get in and make it work for them in one way or another.
7. She didn't waste any time when it came to getting to work after graduation.
That is usually the goal after graduating any institute of learning after all, to either have a job lined up or to be doing something already and move seamlessly into the position that one desires. There's no doubt she had to take on other roles for a while to make ends meet and prove herself, but seeing as how she's still fairly young it doesn't seem like it took that long.
6. Soo has been nominated for and won several awards in her time.
She's won a handful of awards in her time which is pretty impressive given her age and the profession she's been in for so long. There are those moments and those individuals however that seem born to be on stage and excel to a very high degree.
5. Her TV credits still aren't that extensive.
Considering that she's spent so much of her time on stage where she's excelled it's not hard to believe that she hasn't had the time to really push herself in another venue, but it does seem as though she's trying to branch out now and do other things.
4. She performed various voices in Moana.
Mark Snetiker of Entertainment Weekly was kind enough to do a piece on Phillipa when she joined up the talented cast of Moana to play a villager in the main character's home of Motunui.
3. Soo and the original cast of Hamilton performed at the White House in 2016.
Obviously it wasn't in full costume and with the sets they normally utilize but the cast did manage to perform a few of the musical numbers from the show and people were quite moved. This was covered by numerous networks and the moment was caught just perfectly.
2. She's in her late 20s at this time.
To see someone gain this kind of notoriety at such an age is usually pretty impressive, especially if they don't burn out and find it necessary to retire for a while. So far it would seem that Soo is in full control of her career and is moving forward without any difficulty.
1. So far her net worth isn't really known.
There are plenty of facts that can be found out about her on Answers Africa but at this time it doesn't seem as though anyone can really tell us her net worth, though one has to imagine that it's risen a good deal since her time with Hamilton and her move towards TV.
It does seem like she'll be one to watch in the near future in terms of her career.