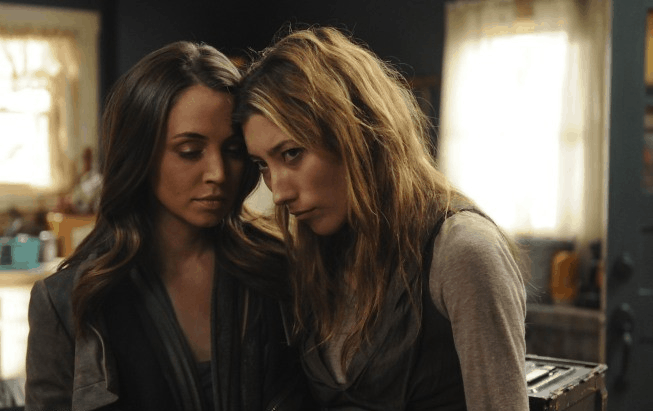 It's almost over, folks. Joss Whedon's gone-too-soon series Dollhouse will air its series finale on January 22. The series, cancelled due to low viewership, will leave behind a small but dedicated fanbase, who will certainly love this titular follow-up to the first season's finale, "Epitaph One." It's a dystopian episode, apparently, that will take place in the dark future of 2019, where the technology of the Dollhouse has been turned into a global weapon — and will focus on the efforts and the group of freedom fighters "The Actuals" to take down the threat.
Here's the press release for the episode:
FRIDAY, JANUARY 22

**SERIES FINALE**-"DOLLHOUSE"-(9:00-10:00 PM ET/PT) CC-HDTV 720p-Dolby Digital 5.1

PA: Viewer discretion is advised.

ECHO RACES TO STOP AN APOCALYPSE ON THE SERIES FINALE OF "DOLLHOUSE" FRIDAY, JANUARY 22, ON FOX

Picking up from the events depicted in "Epitaph 1," the "lost" episode of DOLLHOUSE, and set in the year 2020, Echo and her surviving Dollhouse crew attempt to restore order to a devastating future world before mankind is eliminated in "Epitaph 2: The Return," the series finale episode of DOLLHOUSE, airing Friday, Jan. 22 (9:00-10:00 PM ET/PT) on FOX. (DOL-213) (TV-14 D, L, V)

Cast: Eliza Dushku as Echo; Tahmoh Penikett as Paul Ballard; Olivia Williams as Adelle DeWitt; Harry Lennix as Boyd Langton; Fran Kranz as Topher Brink; Enver Gjokaj as Victor; Dichen Lachman as Sierra

Guest Cast: Amy Acker as Dr. Claire Saunders; Summer Glau as Bennett Halverson; Miracle Laurie as Madeline Costley/November; Reed Diamond as Laurence Dominic; Alan Tudyk as Alpha; Adair Tishler as Caroline; Maurissa Tancharoen as Kilo; Felcia Day as Mag; Zack Ward as Zone; Nate Dushku as Clive; Noah Harpster as Matthew; Christian Monzon as Romeo; Brandon Dieter as T
And here is a collection of promotional photos taken from the episode. They certainly make it look like "Epitaph Two" is going to be a dark and crazy finish to this short-lived but still cult show.
[imagebrowser id=296 template = flipped]