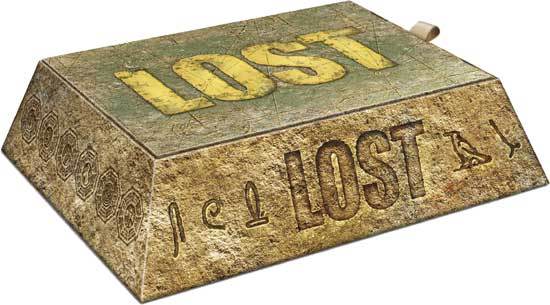 LOST is one of the few shows that could actually benefit from a complete series set. It's one of the shows that, from start to finish, was one of the most engrossing and lauded shows. But, regardless of how amazing the series was, it's going to take some really cool extras to make me shell out cash for DVDs that I've essentially already bought with the individual season sets. LOST: The Complete Collection delivers. Sure the DVD/Blu-Rays for the set are essentially the same. But they come in a different packaging that's reminiscent of thinpak DVD boxes, all packaged into one rustic-looking slipcase embossed with the title of the series and an image of the survivors standing on the beach.
That slipcase is reminiscent of the big box itself, which has similarly embossed hieroglyphics and DHARMA logos. The set will also contain a rustic-looking Island map that looks like it would be a must-have for any fan,giving us a totally new glimpse of the Island which we have never seen before. Also included in the set is a piece of paper, which looks handwritten. Is it Sawyer's letter? Locke's note to Jack? Or is it a note from Damon and Carlton about the series? Whichever it is, it's likely to be shrouded in mystery until the set comes out.
There's also more Egyptian iconography, like a game of Senet like Jacob and MIB played in "Across the Sea" (which includes your very own black and white stones), a miniature ankh like Paul wore in "LaFleur," and a keychain DHARMA blacklight, which will undoubtedly uncover some things hidden on the set itself. What will be hidden? My guess is the answer to the muffin drop.
You can preorder the Complete Collection on Blu-ray
and DVD
. Check out some close-up photos from the set below.
[imagebrowser id=544 template = flipped]