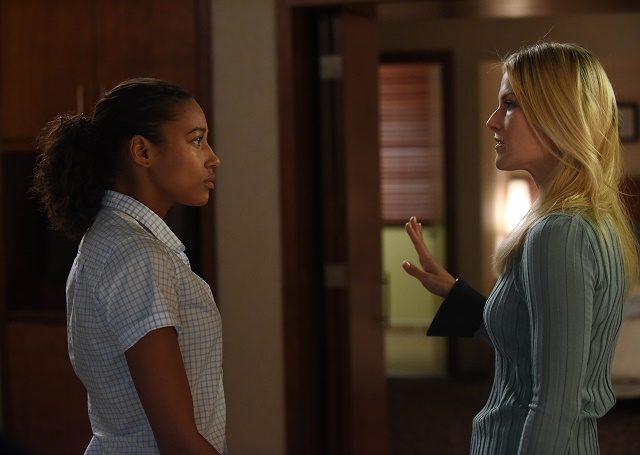 We know from the Pitch premiere that Ginny had a very complex relationship with her father. While Bill wanted nothing more than to see Ginny succeed, he believed that the only way he could achieve their goal was through strict guidelines and consistent practice, which left hardly any time at all for Ginny to just be a girl. And as we find out in tonight's episode, "The Break," that constant pressure that Ginny faced from her father didn't just complicate her relationship with him; it also made things more difficult for her and her mom as well. As Janet tells Ginny in their fight, after she doesn't show up to support Ginny at the All-Star Game, baseball not only killed her marriage, but it also took away any connection she had with her daughter. How can she reconcile with that?
Of course, we know from this episode's flashbacks that it wasn't that simple. Ginny didn't simply reject her mother and her hopes that Ginny would get the chance to just be a regular, carefree teenage girl; in fact, she wanted to have that opportunity, too. But any desire Ginny had to connect with her mom, to stop playing baseball and be like everyone else, disappears the moment she catches Janet cheating on her father with none other than William, the man she's currently dating in present day. Ginny witnessing her mother's affair as a child is traumatic, and it causes Ginny to completely dedicate her life to baseball. Since she can't trust and love her mother anymore, Ginny does everything she can to maintain her connection with her father, even if it might not be exactly what she wants in life.
Through the flashbacks of Ginny and her mother, Pitch not only provides insight into their relationship but also gives us a better understanding of how Ginny came to be such a committed and determined baseball player. Not only did she leave any chance of normalcy behind when she chose to continue training and practicing with her dad, but she left a parent behind as well. That anger and betrayal she felt and still feels from her mother manifested itself into the focus and drive she needed to become the first female MLB player.
However, as Pitch has shown on countless occasions throughout its first four episodes, it's not just Ginny's baseball skills and pitching mentality that have evolved and matured over the years; she, as a person, has too. At 23 years old, she's a fully grown woman, who has seen the best and worst from people, and when she hears her mom describe how broken her and Bill's marriage became, she sympathizes with her. Instead of reverting back to her teenage self, a girl that could have screamed and lashed out at her mother for being a cheater, Ginny does her best to understand and move forward, acknowledging that she and her mother may never be as close as they used to be but recognizing that, unlike her parents' marriage, there's still time to repair what has been broken.
Meanwhile, as Ginny reflects on the past, Mike looks toward the future, taking on a All-Star post-game show position after he's forced to drop out of the game due to injury. Of course, his absence from the game (along with the 36 million signatures of an online petition) allows Ginny to take his spot on the National League roster, and while Mike is supportive of her, even speaking out on her behalf after his co-hosts bring up the fact that Ginny allowed a big home run while pitching, his attention is also focused on what comes after baseball for him. He talks to Amelia about it, saying he has a "phase two" planned for himself, which includes broadcasting, but when he realizes that he might not be a great fit for that job, he begins to worry about what his life will be like once he's no longer a Padre.
Adding to Mike's worry is Livan Duarte, a superstar catcher from Cuba that Oscar signs. Duarte makes it clear to Oscar that he wants Mike's job, and since he's younger, healthier, and potentially more talented than Mike, there's a good chance that he could get it. And while Mike is clearly concerned, he tries to get his mind off the signing not by sleeping with Amelia or getting a beer with the guys; instead, he calls Ginny, who answers, and the two of them crack jokes about the home run she gave up during the All-Star Game.
Ginny is only starting her career and Mike's might be ending soon, but while they talk on the phone together, none of that matters anymore. All the stress that both of them have, Ginny about her mom and Mike about the future of his career, it all disappears, and the two of them don't need to worry about being daughters or boyfriends or even ballplayers. They're just two friends, talking and laughing, and for one night at least, that's enough.
Other thoughts:
While Ginny and Mike remain Pitch's two main characters, the series continues doing a terrific job of fleshing out its supporting players throughout "The Break." Not only does the episode focus on a very real and honest fight between Blip and Evelyn, which occurs after he gets selected for the All-Star Game while they're on vacation with the kids, but it also fills in a bit of Oscar's backstory as well, as he talks about his poor upbringing in Mexico and his short career in the MLB while trying to sign Livan.
Speaking of Blip and Evelyn, though, they might be my favorite married couple on television right now and one of the most realistic ones I've seen since Eric and Tami Taylor from Friday Night Lights. Kudos to both the Pitch writers and Mo McRae and Megan Holder, who deliver truly fantastic performances as these characters.
I really love how Ginny offers the same words of comfort to Janet that her mother gave to her when she was a child. Not only does it provide a nice, full-circle moment, but it also again shows how much Ginny has matured and how she is now able to deal with her and her mom's relationship in a way that she wasn't able to before.
Which moment from tonight's Pitch was more awkward for you to watch: Mike's first attempt at broadcasting or that dinner scene? I'm still not sure which one was worse.
What did everyone else think about tonight's episode of Pitch? Did you enjoy it as much as I did? Comment below and let me know.
[Photo credit: Ray Mickshaw/FOX]
Pitch Season 1 Episode 4 Review: "The Break"
Summary
Ginny struggles to find time for her mom after she's selected for the All-Star Game in another excellent episode of Pitch.