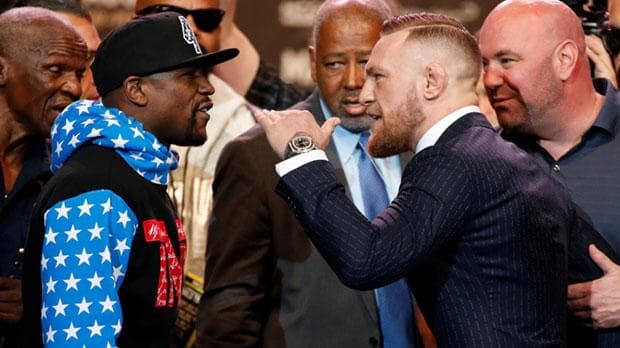 A lot of people are praying that they'll see Floyd Mayweather in a UFC ring in the coming year or so, but one thing that people are forgetting is that boxers don't always fair so well in the octagon. They've got a lot of punching power and if they stay on their feet they're great, but MMA isn't all about striking. A person can be an awesome striker like Mayweather and get along just fine until someone comes along and takes them down. Once that happens all the striking in the world isn't going to help if the other guy gets them in a knee bar or other vicious hold.
As of right now Mayweather is attempting to get a license to fight in MMA, and then he's thinking about six to eight months of training should put him in the running to make his debut. Those six to eight months might toughen him as far as it goes for being able to survive in the octagon, but anything beyond that seems like it would be pushing it. If you can take a look at this objectively many MMA fighters that have been in the ring have been doing this kind of thing for YEARS. They haven't just given over months to the sport, they've given years of training to become the deadly weapons that they are. And it pays to give credit to Mayweather that he's been one of the greatest boxers to come around in a long while, but he's still not an MMA fighter.
Trying to compare a boxer to an MMA fighter is like pitting a soldier right out of boot camp against a Navy SEAL in some respects. That soldier might be tough as nails and able to answer the call to action without hesitation, but the SEAL has more training, more to their skill set, and a lot more bang for their buck when it comes to fighting. There's nothing to take  away from Mayweather's ability here, it's simply enough to say that he's going to have to add a lot to his tool box in order to bang with the MMA fighters. His ego might be getting a little ahead of him if he thinks he can take on any of them at this point and win. It's one thing to stand up and box, but once his legs are out from under him Mayweather would no doubt be at a loss for what to do since his training has concentrated on staying on his feet and punching his opponent into submission, not locking up their knees, legs, or any other body part. He's a striker at best, the chances are that he doesn't know how to throw a kick that could compete with the MMA fighters yet. His endurance might not be a problem since as a boxer he has to last the distance if he doesn't knock his opponent out.
Perhaps the biggest thing right now to work on would be his ego, as coming into the octagon with his ego and little else wouldn't be a wise move.