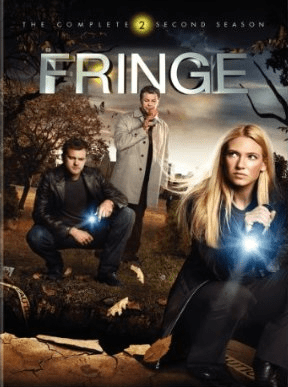 Fringe's second season has been one of the absolute best on television this year. With great character development and eerie cases to solve, this season has helped to transform the series from a decent sci-fi outing to a truly great series. Now, you can give Fringe: The Complete Second Season a place of honor on your DVD shelf, right next to Fringe: The Complete First Season. The series has been put up on Amazon for pre-order, and I have to say, I'm really excited about it.
The DVD case for this season features the main promotional poster for the second season, which shows Olivia, Peter, and Walter investigating the crime scenes from "The Night of Desirable Objects," which was the second episode of the season. It's currently unknown whether or not the case will be holographic like the first one is, though for consistency's sake, I hope it is. Having the case transform into three more glyphs (like the frog, seahorse, and leaf before them) would be absolutely cool.
No release date is yet set for the DVD/Blu-Ray's release, but you can already pre-order it through Amazon. Ordering them through the links below will help out TVOvermind, so if you plan to do so, show this site a little love. The DVDs are marketing for $41.99 and the Blu-Rays for $48.99.
If you haven't been watching Fringe, it's not too late to start. Though season two is still rolling, you should buy the DVD's and catch up before season three starts in the fall!