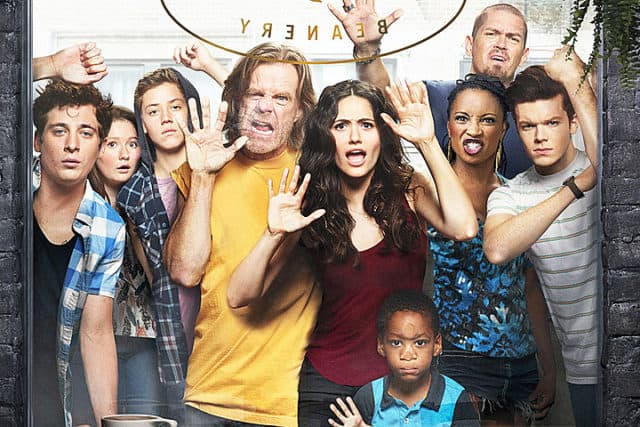 If there is one show is this entire universe which remains true to its name, it's Shameless. This show has set the bar quite high to how low a person would go to survive or get by in life.
For all the loyal fans out there it's just a testament to the fact that people love being shocked, disgusted, surprised by the constant tousle between the most depraved and those who have the grit to survive and fight the system. The viewers have grown to oscillate between loving and hating and more often than not, wanting to shake some good sense into more than one from the Gallagher clan and ultimately accepting them for all their good and bad.
Brief overview of characters:
The show circles around the everyday lives of the dysfunctional Gallagher family which consists of Frank, a deadbeat , good for nothing , drunk and addict of a father played by Oscar nominee, William.H. Macy, who plays this role to perfection. He has won numerous accolades for this role and just brings a raw, human, stench to his character that exudes through the screen.
Frank has 6 children;
Fiona (Emmy Rossum) the oldest daughter who has taken on the role of the parent from the age of 9, a smart, brave, gritty young woman who has sacrificed a lot for her siblings and does resent them a bit for it.
Philip or" Lip" (Jeremy Allen White) is the oldest brother who is an exceptionally smart child yet very emotionally compulsive and prone to amazing amounts of self sabotaging techniques. His character is like an onion, there are so many layers to this boy who feels too much and then at times doesn't feel at all.
Ian (Cameron Monaghan) is the third child who has come to terms with his homosexuality quite early on in his life. He has also inherited his mother's mental health issues and gets diagnosed with bi polar disorder. He has a stint with the Army and eventually finds his calling as a paramedic with the EMT.
Then there is Debbie played by Emma Kennedy who is a smart and sassy girl who is all heart and gets burnt because of this wonderful quality of hers. She becomes a teenage mum and keeps her chin up while she navigates the terrains of her new life with all its challenges.
The fifth child is Carl (Ethan Cutkosky), a force to reckon with, a child who is naturally drawn to blood and gore. This penchant of inviting mayhem in his life gets him a period of Juvenile detention and later on he works hard on coming to his own and makes better life decisions.
The last Gallagher is Liam who hardly speaks, and is half white and half black. There is some genetic one in million explanations for this.
There are a host of supporting characters that add to the whole flavor of the show like the next door neighbors Kev and Vi( Played by Steve Howey and Shanola Hampton), Mickey(Noel Fisher)and many more.
The success of Shameless is evident as it has been renewed for another season, and the show's fan base gets stronger with each season. The show has grown into a dramedy since it first aired in 2011. It's amazing to follow the journey of many of the characters and see how much they have grown, physically and in their craft during the course of the series
The debatable and interesting question would be what will happen to the cast member once Shameless comes to an end?
This would be a complete guesstimate as the series is still running, and since it's based on the UK series of the same name, which is also enjoying a really long run, who knows what reality has in store for us?  Most of the characters especially the older ones, are actors with quite a prolific reputation in Hollywood and have been seen in many stellar productions in the past.
Macy, being the legend that he is, gets into his character and brings together emotions that are so conflicting when put together, but he alone can somehow weave a beautiful mess out of them all. His caliber as an actor is so way up high and never ceases to amaze with his performances. The downside of giving such a stupendous performance as the deadbeat Frank Gallagher is the danger of being typecast. He may not be able to shake off the character as easily once the series comes to an end. But here's hoping it won't come to that.
Emmy Rossum has also had a few good roles under her belt and has tried her hand at directing episodes of Shameless and is seeing a promising pathway there as well. There have been updates on her being successful in negotiating for a pay level on par with Macy. She is also quite an acclaimed singer and a theater performer, which opens up a whole array of options; she is definitely going to be on the popular radar in Hollywood even after Shameless.
Jeremy Allen White, who plays "Lip" can be compared to a younger Aaron Paul(of Breaking Bad fame), a man with oodles of potential and has a morbid intensity to his role. There is no doubt; we will be seeing him in great roles in the future, but maybe in the supporting role category.
I have to be honest; and this is going to sound harsh. I don't really see a rosy future for our dear Ian, played by Cameron Monaghan. He really hasn't explored the depth of potential his character is capable of. I just have a gut feeling that he may not be as successful as the others. But here is where I would love to stand corrected.  Granted he's doing well on Gotham but long term I'm just not 100% sure about this guy.
Debbie (Emma Kenney) and Carl (Ethan Cutkosky) both started of as little kids in the series and have really grown up to showcase some diverse ranges in their emotions and acting prowess. Emma has great comedic timing and has proved to be able to deliver great moments on the show; she has been noted as an up and coming star in the industry. The same can be said for Carl, he has a loyal fan following of young girls and is set to make huge waves in major movies if he continues this trend. We will definitely see much more of the both of them in future.
And then there is Liam, well… I am just going to have to let you figure this one out on your own.
In general, all the actors have had such a terrific kaleidoscopic journey through the seasons. And we would love to see more of them in the years to come.
Here's hoping for more madness, mayhem and that chaos that we have grown to enjoy. I am sure you wouldn't mind the wait for the upcoming eighth season where our favorite family comes back to entertain the crap out of us, Gallagher style!