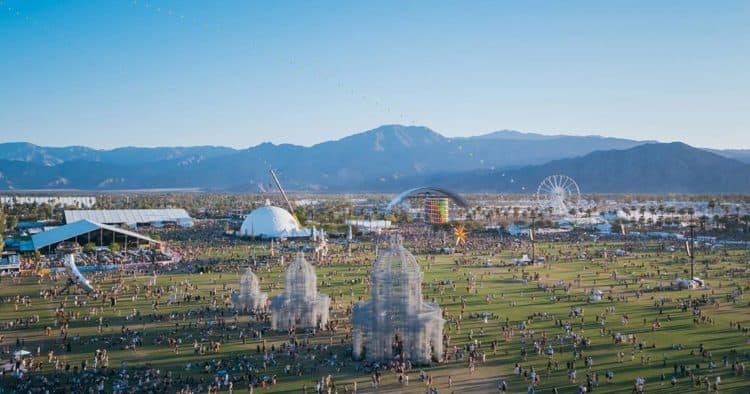 Coachella is, without putting it too lightly, one of the absolute biggest music festivals of the year. Brought into existence in 1999 it's been steadily growing for the past two decades until it's finally become what it is now, a mega-festival that draws in hundreds of thousands of people to witness the kind of show that will be discussed for the rest of the year until the next one comes along. Unfortunately as with many shows this size there's a large amount of expectation and a great number of leaks that tend come as a result of loose lips and over-excited fans that can't seem to help but spill the beans whenever they discover something about the show that they simply have to share with others. This kind of ruins the whole idea of it for some but given how much money it costs to buy a ticket and how quickly they sell out it wouldn't hurt to know that there's something worthwhile to go watch. Sometimes it's just for the experience, but other times it's nice to know that you'll be entertained without fail.
Here are just a few predictions that seem to be cropping up about the upcoming festival.
10. The Spice Girls might show up.
This hasn't really been confirmed but Stubhub seems to think that the popular girl group from a couple decades ago might actually make the list and make an appearance at some point. It'd be kind of miraculous if it did happen since the news about them tends to imply that they're not seen together that often any longer.
9. A lot of popular artists won't be able to attend.
Angel Chavez is pretty confident in his predictions and the lineup that's been confirmed for the show, but even he isn't entirely sure who's going to make it and who won't. What he does know, which is something that many people who would bother to check can find out, is that artists that have announce or will be performing various tours and shows within a set period of time won't be able to attend.
8. There will be better gender representation.
Festicket seems to believe that the ratio of men to women performers will be much more even this year as it would seem that women have been under-represented in the past. One would hope that this wouldn't be an issue but given how many performers there are it would seem kind of easy to start putting just as many women as men on the lineup.
7. It's rumored that Childish Gambino, Justin Timberlake, and Kanye West will be headlining.
This seems like a rumor that's already been disproved by Charlie Vargas of Edmtunes since Childish Gambino does seem to be headlining but Timberlake and West don't sound as though they'll be there in a headlining position since JT apparently has had a few throat issues while West is just being West and has been reportedly arguing over set designs and is now believed to not be coming.
6. Some people are going to be extremely disappointed.
Johnny Coleman of The Hollywood Reporter seems to be calling his shot at this point since it's one thing to criticize Coachella and be fashionable about it, but it does seem as though this coming festival is going to be a little underwhelming. You can't fault someone for failing to be impressed by something that's been known to cause a stir months in advance.
5. Coachella 2019 is going to be a weaker show than previous years.
Right now it would seem that all the leaks and the rumors are doing nothing more than continuing to damage the already lackluster lineup that people are being made aware of since already folks are starting to think that it might not be worth the effort.
4. The influx of talent won't be able to make it any more memorable.
There are some truly talented musicians making their way to Coachella, but unless they're able to bring something unique and powerful to the show it almost feels like this year will be a rolling dumpster fire rather than one of the hottest shows of the year.
3. People are going to want to forget about this year's festival.
From the price of the ticket to the price of anything and everything you might purchase while you're there this seems like one show that a lot of people are going to want to write off as a wash no matter if the promoters are still working to get fans excited.
2. The musicians are going to be great, but still won't be able to save the show.
There's nothing bad to be said about the musicians, they're going to do their thing and put on a show the way they know how, but even the combined efforts of so many might not be enough to invigorate the show enough to satisfy the fans.
1. The lineup for next year might be kept under lock and key.
It's been shown in many a different way that giving too much information can be a detriment to any show, be it live or filmed. Maybe next year Coachella will only allow a few hints and rumors to leak out.
To be honest I'm hoping that some of the gossip and rumors are wrong for the sake of the people attending.