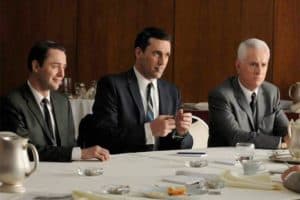 The premiere date for the very long awaited season 5 of the AMC hit Mad Men has finally been announced and it is star Jon Hamm that shared this information with the world. Hamm appeared on the Doug Loves Movies podcast and revealed that Sunday, March 25 is the date that all Mad Men fans should have circled on their calendars as this is when season 5 will begin. This is the week after the season 2 finale of The Walking Dead and it makes sense that AMC will give Mad Men its prior slot of 10 PM.
Unfortunately Hamm didn't reveal anything further about what season 5 will entail so all we know is that production began back in August and that Jon Hamm will be directing the first episode of the new season. There have been on set paparazzi photos here and there that reveal much of nothing, except that it looks strange seeing the actors holding Starbucks cups whilst in their 60s garb. Creator Matthew Weiner likes to keep all details secret before the show airs, including how much time has surpassed since we were last with these characters and as we have seen before the time leap can be months or years.
What we do is what happened in the season 4 finale (read our review here); Don proposed to Megan (Jessica Paré) and despite the short length of their relationship she accepted, Joan (Christina Hendricks) is still pregnant with Roger's (John Slattery) baby but is passing it off as her husband's and Sterling Cooper Draper Pryce still lies in a precarious financial position but Peggy (Elisabeth Moss) is showing her skills by scoring a new account. It is somewhat reasonable to expect that all of these storylines will feature in season 5 and so let the speculation begin (or continue rather).
AMC is preparing fans for the new season by showing seasons 1-4 prior to the season 5 premiere date. I have just finished marathoning these first 4 seasons on DVD and didn't quite time it to coincide with the new season but it was definitely worth doing and almost filled the hole of this very long hiatus; the last new episode aired Sunday, October 17 2010.
March 25 may seem far away but after such a big gap between season 4 and 5 of Mad Men I am just happy to have a date for when the next new episode will air. Are you excited by the return of Mad Men? Let us know what you would like to see happen in season 5 in the comments below.