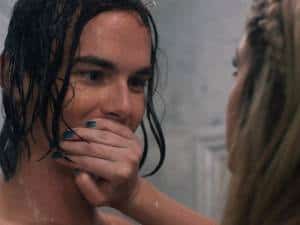 The only good news about the season one finale of Pretty Little Liars is that we need only wait until June for the premiere of season two! Thank you ABC Family, for keeping our hiatuses as short as possible. It also keeps our lovely actors from aging too quickly for the story. Bonus!
So much has happened in this impressive first season of Pretty Little Liars. We didn't even know these girls a year ago, and they barely knew each other after a year apart due to the aftermath of the disappearance of their friend Alison. At the time, her disappearance wasn't a death or even a potential murder. My how time flies!
Now, every week, the mysterious A lets our liars know he/she is one step ahead of them, no matter where they are or what they are doing. I doubt we will find out who A is in the finale tonight, but we certainly are not at a loss of candidates for otherwise nasty characters.
Ian, married to Spencer's sister, is beyond shady. He has something on everyone, and the only people who seem oblivious are the Hastings parents and the police. This guy can't pull the wool over everyone's eyes forever, can he?
Jenna, blind or not, sees far too much for my taste. Somehow she knows things even a seeing person would miss. She has her finger on the pulse of Rosewood in a way that is downright creepy. I was surprised at the tears after Hanna's slap, wiping the glasses right off her snotty face. Is she human after all? Perhaps just misunderstood?
I know a lot of girls still want to see Hanna and Lucas together, but that boy is crazy. He is a wild card, and we won't know where else his hot little hands have been until he shows all of his cards.
What do you expect to find out from the finale? What kind of revelations will we see? A hint of who A might be? Who murdered Alison? What secrets Ian is hiding (and how many)? Will someone out Aria and Ezra? What could the potential fallout mean of any of this mean to Rosewood? Tune in tonight, and we can all find out together!! In the meantime, for more on the finale, take a look at Clarissa's photos and sneaks post. It will be a great night, all!
[imagebrowser id=928 template = flipped]
[email protected]
@modwild (Twitter)