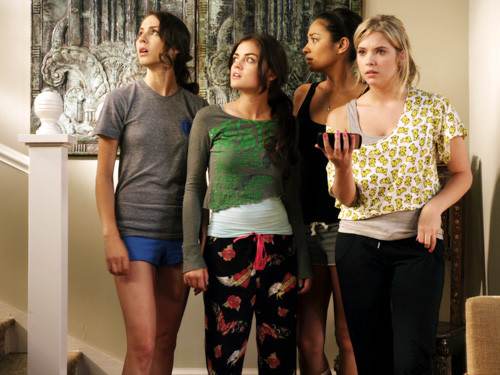 Due to my recent vacation to Hell, I am going with a review this week for the Pretty Little Liars. If you are wondering, I did NOT see "A" during my trip around the seven circles of the Underworld, which begs me to question where was our resident troublemaker this week?
Pretty Little Girls Can Weave Their Way Through Broken Homes and Broken Ties…
I don't get the fascination with Ezra Fitz and the whole acceptance of his relationship with Aria. Maybe it's because I'm a guy. Maybe it's because the thought of doing some time in the pen over an underage girl is daunting to the infinite power. I don't know what it is, but I just don't like this whole scenario and was kind of glad that Ezra stopped and had an adult thought for a moment. Granted it took his old college buddy Hardy to plant the seed, but his job, career, and freedom should've laid a garden of "You Are F'CKING UP!" markers in the guy's head by now. But alas, we live in a screwed up world. But with all that said, I really didn't appreciate how the modern day 'Humbert Humbert' acted towards Aria after Hardy snapped some sense into him. He's the adult in the relationship, so he should only take his frustrations out on himself. Then to make matters worse, "A" reared their ugly head and escalated the situation into DEFCON 1. I know the two will eventually make up, but this can't end well, people. Ask Pacey and Ms. Jacobs from Dawson's Creek.
"A" has also turned the Montgomery household into a war zone and Aria and her little brother Mike are in the middle of the battlefield. While Aria is wearing her armor, Mike seems to have left his behind in favor of his lacrosse gear. I have a strong feeling that Mike will induce some whining soon and I will most definitely not like it one bit.
Pretty Little Girls Don't Like To Lose… Ever.
Spencer finally called her father out on the crap that is her family's entire existence. You must be the best except when you are trying to land a client? I don't think so, pops. I was shocked like hell that she admitted to plagiarizing that paper, which kinda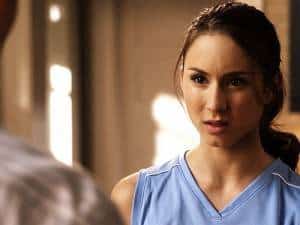 didn't even get a too stern look from the creep. Issues much?
And what is Javier from '90210' doing on PLL? Diego Bonata is keeping seriously busy this summer before returning to West Beverly to wreck more havoc this fall, but will he be just a fling for Spencer or an actual foil against Wren? Time will tell…
Pretty Little Girls Will See You When They Are Good And Ready!
Emily is kinda throwing me for a loop at the moment with these budding feelings for Toby, but at the same time I feel as if she isn't as confused as she thinks she is. Like I said before, Alison prayed on Emily's emotions a bit and while Emily might have feelings for Maya, I don't think they are the same intensity as they were for Alison. So in other words, Emily still likes boys. But she has a problem picking the RIGHT boys, which can be a big problem. Despite the previews next week, I don't think Toby will try to harm Emily in any way. If he does try to then I will eat my words happily.
Plus, now that Hanna knows about Emily's girl 'crush', will Emily admit to it and be herself? Or will she still play mum about the situation?
Pretty Little Girls Just Want A Little Love And Attention
Poor Hanna. This girl has serious self esteem issues that need to have some one on one time with a licensed psychiatrist. Sean needs to go with her as well, only to learn how to talk to his girlfriend and understand where she is coming from. True, Hanna acted like a lunatic when she rammed his car into a rock, but… I don't know. A part of me thinks that if Sean really wanted to be with Hanna then he would talk to her instead of wearing her as a fleece around his shoulders. I'm just saying. From my view, he's either leading her on in terms of just having her for appearances only, or he just doesn't know how to get his feelings/point across with the abstinence thing.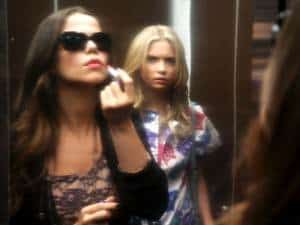 Pretty Little Liars Are Close Enough To Be Burned
So "A" nipped that little phone block thing in the bud, but had already done enough damage before the girls could unfreeze their phone lines to "A"'s beck and call. Hiding in the closet while the girl's freaked was pretty damn creepy and too damn close for my comfort, but "A" had to get their point across and they did it pretty damn well.
With Hanna finding out about Jenna's therapist visits, the Blind One has moved up on my suspect list, but has to have an accomplice. Det. Wilden anyone? He hasn't been seen a while, which gives him plenty incentive to plan something in time for a midseason cliffhanger.
So what do you guys think? Will tonight's homecoming dance be a sweet dream or a beautiful nightmare?