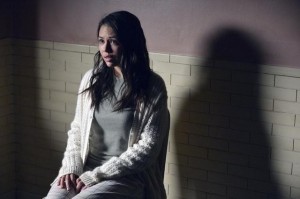 Yesterday we posted two clips for the upcoming Pretty Little Liars Halloween special.  The girls are headed aboard a luxurious train for a party featuring an Adam Lambert performance, but Lambert isn't the only special guest at the party.  Like last year's episode, the girls are going to be tormented by some masked figures.
We know that Toby is a member of the "A" team, but he's heading to the party with Spencer as his date, so we have to wonder how many other "A" team members will be boarding the train.  Stuck at home (at least for now) is Mona.  She desperately wants to celebrate Halloween but the sanitarium doesn't like the holiday, so she's forced to do her own decorating in the dead of night….and with a mysterious guest!
Watch a sneak peek below for the special Halloween episode of Pretty Little Liars, airing on Tuesday, October 23 at 8:00 p.m. ET/PT.