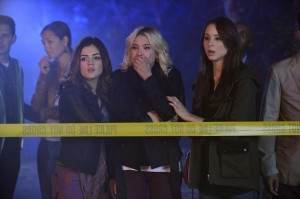 The summer finale of Pretty Little Liars is promising to reveal a traitor and tell fans who is responsible for Maya's death.  According to ABC, here's what will happen: "Emily is caught in the crossfire when Maya's murderer is revealed in "The Lady Killer," the mid-season finale.  With Garrett's trial for Maya's murder starting, the town of Rosewood has become a media spectacle. At odds with her friends over Paige, Emily doesn't know where to turn when the media attention becomes too much for her. "A" sees this as a perfect opportunity and takes advantage of the situation and sends Aria, Emily, Hanna and Spencer on a path to a possible truce. But is "A's' peace offering real or just a trap for a much darker ending? Meanwhile, Aria, Emily, Hanna and Spencer are betrayed as someone very close to them is revealed as part of the "A" team."
Photos from the finale have been released and I can't help but speculate at how the situation will turn out.  First, you can see that Emily is covered in blood, leading me to believe she gets into a confrontation with Maya's killer.  But look at Hanna's reaction to the situation.  Is it because she's upset that something may have happened to Emily?  Given the fact that the other girls don't look as concerned, I have to wonder whether the person Emily confronts is actually someone close to Hanna.  Will they be the traitor?  Whatever happens, it looks like we may get another classic Pretty Little Liars finale cliffhanger.  On this show, whenever one mystery is solved, another one pops up to take its place.
Don't forget to browse and bookmark our Pretty Little Liars page for news, reviews, spoilers, and sneak peeks for the show.