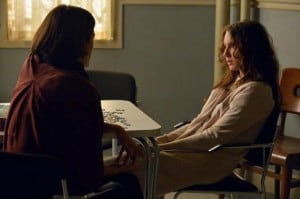 Pretty Little Liars fans have had many reasons to be worried for Spencer lately.  The truth of Toby's deception and her inability to tell her friends have left her reeling and her behavior has become increasingly more destructive.  In the last episode, she physically lashed out at Mona after a taunting by her enemy.  But should we all be genuinely concerned about Spencer's mental state?
In an early March episode of the show, "Spencer hasn't been herself lately, but has she had enough to just disappear? Could "A" have done something to her? These are all questions that Aria, Emily and Hanna are asking themselves when Spencer goes missing. But when it turns out even her family doesn't know where Spencer has gone to, the girls frantically search for answers hoping their worst fears aren't true. But where Spencer does turn up at, maybe she doesn't want to be found."
Photos for this episode show us exactly where Spencer is: a sanitarium.  Possibly the same one that Mona attended.  She's also being visited by both Mona and Dr. Sullivan, which is cause for concern.  But here's the most important question: has Spencer landed herself in the mental hospital to do research on Mona or is she there because she's finally snapped?   Elsewhere in the episode, Emily meets Olympic medalist Missy Franklin.
Click the photos below to browse through pictures for the March 5th episode of Pretty Little Liars on ABC Family.