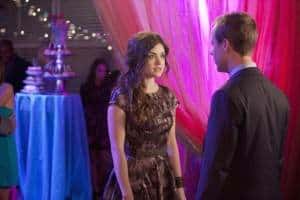 We're counting down to the season 2 finale of Pretty Little Liars. March 19 marks the date that "A" will finally be revealed and spoilers for the remaining episodes of the season tell us that we've in for many twists and turns before "A" is finally unmasked (perhaps even at the masked ball that will be featured in the finale).
Last week's episode of Pretty Little Liars threw a whole new suspect into the mix: Melissa Hastings. After finally reappearing in Rosewood after a slightly extended absence, the heavily pregnant Melissa was also spotted on one of "A's" cell phone videos, leading the girls to believe she might have been mixed up in the whole Alison murder plot. But Spencer is adamant that her sister isn't guilty, no matter what her friends say. Unfortunately, Melissa's making it hard for her sister to defend her when she's doing suspicious things like hanging out with Officer Garrett.
The girls and their fathers head to Rosewood's Father-Daughter Dance in tonight's Pretty Little Liars. Emily's solider father even returns to town for the traditional dance. But with both Spencer and Aria on the outs with their fathers, could this dance end in disaster? Plus, Hanna's mother Ashley is tired of being kept in the dark and, after a few recent discoveries, decides to seriously investigate exactly who her daughter is afraid of.
Watch sneak peeks below for tonight's all new episode of Pretty Little Liars, airing at 8:00 p.m. EST on ABC. You can also view two promos and browse through photos for the episode here.
Note: International readers may have trouble watching the videos below. If that's the case, try to watch them here and here.