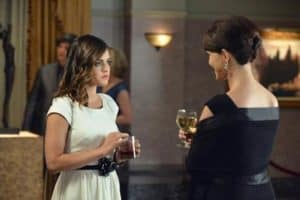 A few newbies came to Rosewood in this week's episode of Pretty Little Liars, including an old friend of Alison's named CeCe who is "very intense". Acting very much like Alison herself, she helped Emily try to drive a wedge between Nate and Jenna. Meanwhile, Alison's father arrived in town and he holds a serious grudge against Hanna because, as we saw in a flashback, she and Mona were playing with a Ouija board and she thought she saw Alison shortly before her body was found. After telling Mrs. DiLaurentis about that, she was confronted by Alison's father, who accused her of playing a terrible prank on his family. And Aria turned to Mona for answers when it looked like Hanna would be framed for Alison's murder. In the end, Mona passed on a secret message that led the girls to a mysterious website. The only problem? They don't know the password.
In next week's episode: "Emily is struggling to deal not only with the loss of Maya, but the knowledge that someone drugged her "that night" and how that has now affected Paige. Going to make amends with Paige and try to explain the drugged flask ends up leading Emily to more insight of what she did "that night." Also trying to help Emily out, Spencer turns to Caleb to help crack into a website that might hold answers for them all. Meanwhile, Aria realizes she knows very little about Ezra after meeting his mother and Hanna makes a plea on Mona's behalf."
Watch three sneak peeks below for the July 31 episode of Pretty Little Liars, airing at 8:00 p.m. ET/PT on ABC Family.
(Note: if international readers can't view the clips below, try watching them here: clip 1, clip 2, clip 3)