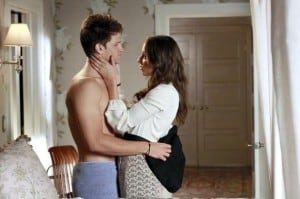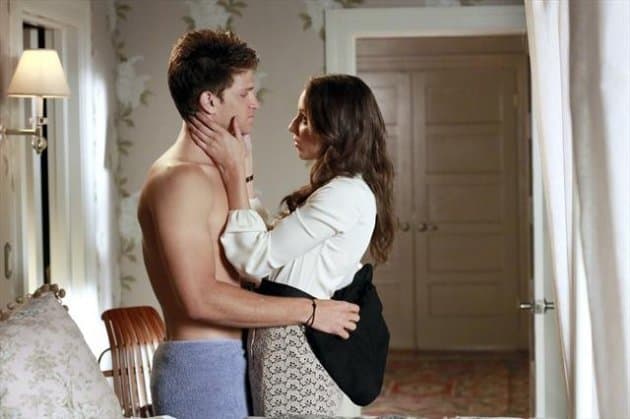 Toby's role on the "A" Team was revealed in this week's Pretty Little Liars and Spencer is devastated that her boyfriend has not only been lying to her all this time, but has also been tormenting her and her friends.
A Fake Ally.  Aria had called a truce with Meredith after they both revealed that they were afraid of Byron in last week's episode, but it turns out that Meredith has her own agenda.  Aria caught a cold that put her out of commission and Meredith used the opportunity to drugging her so that she could search the house for the missing diary pages.  A dream appearance by Alison convinced Aria that Meredith was not on her side and she was forced to try and escape her own room after being locked in there.  Fortunately for Aria, Hanna and Emily spotted Meredith trying to score more drugs from the pharmacy and went to Aria's house after Meredith confronted Aria about the missing pages and knocked her out.  Unfortunately, the girls fell for Meredith's tricks and ended up locked in the basement with Aria.
The Truth About Byron.  Byron returned home from his conference after Meredith called him and told him that "Aria knows everything".  He told Aria that she didn't need to be afraid of him and insisted that he didn't hurt Alison.  We flashed back to the night Alison died and it turns out that Byron walked away from Alison after confronting her and Melissa saw this while on her porch that night.  Byron confessed that he refused to give into the blackmail and was prepared to tell Ella the truth, but didn't go through with it when Alison went missing.  Later, Byron told Aria that the police had searched Meredith's apartment, but she had already left.  When Aria confessed that she still didn't know if she could trust her father, Byron announced that he was going to turn himself into the police to clear his name.  But this move prompted Aria to tell her father that she believed him and she burned the diary pages.
Unexpected Alliances.  Hanna spent the first half of the episode suspicious that Caleb had some of his own plans for "A" and asked Emily to tail her boyfriend because she had a job interview at a designer boutique.  Unfortunately, the interview seemed to be a set-up because Hanna got caught in a room full of creepy manqeuins and a vindictive "A".  But "A" happened to drop a key that led to some very interesting reveals.  As for Caleb, it turns out that he and Paige were secret meeting up to discuss "A" and the girls and figure out if they can find a way to help their girlfriends, but Emily bailed on her surveillance before seeing Paige.
Unhappy Anniversary.  Spencer was planning a big surprise for her and Toby's anniversary, but the festivities were interrupted when Toby showed up at the Hastings house to track down that key Hanna had found and Spencer confronted the hooded "A".  Knowing the truth of what he had done, Spencer slapped Toby, but was interrupted when her mother returned home and Toby split.  Later, as Spencer sobbed outside of Toby's door, Mona was hiding inside, enjoying the dinner the anniversary dinner that Spencer made.
In next week's Pretty Little Liars, Spencer has to share the terrible truth about Toby with her friends and it looks like Aria's relationship with Ezra will also suffer.  Watch a preview below for the episode.
Visit our Pretty Little Liars page for spoilers, sneak peeks and photos.
http://youtu.be/83XPE3-1C2o