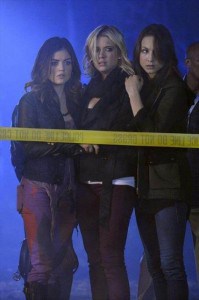 Paige became a serious suspect in this week's penultimate episode of Pretty Little Liars.  Spencer's discussion with CeCe revealed a hidden rivalry between Paige and Alison that made Spencer concerned Paige was a member of the "A" team.   Emily seemed more inclined to believe Paige's proclamations of innocence, but even Jenna warned her away.  Meanwhile, Aria found herself in a sticky situation when she tracked down Ezra's old girlfriend Maggie and realized she had kept his son hidden from him.
Next week's summer finale promises to reveal Maya's killer.  "A" will also be reaching out to the girls to propose a possible truce, but is it just a trap?  Garrett's trial for Maya's death also begins and the girls are in for a shock when they're betrayed by someone very close to them who is revealed as part of the "A" team.  It looks like we're in for one tense finale!
Watch a preview below for the midsection finale of Pretty Little Liars, airing on August 28 at 8:00 p.m. ET/PT on ABC Family.  You can browse through photos from the finale here.
Want to find a way to deal with the hiatus after next week's finale?  ABC Family is launching a weekly web series on August 28.  Take your first peek at the series here.
Don't forget to browse and bookmark our Pretty Little Liars page for news, reviews, spoilers, and sneak peeks for the show.