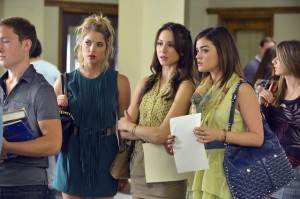 The more things change, the more they stay the same on Pretty Little Liars. The third season returns in two weeks and the mystery is once again heating up in Rosewood.
When we last saw the girls, they had discovered that Mona was "A". Now she's stuck in an institution, but that doesn't mean the girls are safe. The new season jumps ahead in time from the events of the season 2 finale. The girls each spent the summer off doing separate things (like Hanna taking cooking classes with Caleb and Emily building houses in Haiti). When the girls reunite in Rosewood after the summer, they believe that their torment is finally over.
Of course, nothing could be further from the truth. Mona may be locked up, but she already hinted that there are other people involved in her schemes…what she referred to as an "A" team. The trailer for the new season shows us that the girls can't run from their past and there are still so many secrets for them to uncover. With the second anniversary of Alison's death approaching, and the recent death of Maya, the girls will once again be targeted.
Updated: Watch the first 10 minutes of the premiere.
Watch three sneak peeks below for the season 3 premiere of Pretty Little Liars, airing on Tuesday, June 5 at 8:00 p.m. ET/PT on ABC Family. You can also browse through photos for the premiere here.
[jwplayer mediaid="146470″]
[jwplayer mediaid="146473″]
[jwplayer mediaid="146471″]