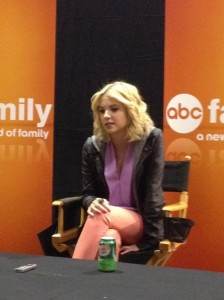 In the new season of Pretty Little Liars, Hanna (Ashley Benson) wants some answers from 'A'and she wants them now.
We've already seen her literally throw down (a chair, that is) while going to visit her former best friend, Mona (Janel Parrish), in the insane asylum in our sneak peaks and the trailer for the season 3 premiere of Pretty Little Liars, so what can we make of Hanna's visits?
Speaking to TVOvermind and other reporters on the set of Pretty Little Liars recently, Ashley Benson explained, "Hanna's trying to figure out if it was her fault and what she did that was hurtful to make Mona turn against her. She kind of feels lost. She has her other friends but Mona was something different."
Ashley went on to tell us that this betrayal has left Hanna "pretty damaged" and, although she has told the other girls that she's hurting, she doesn't think the other Liars understand or can relate to what she is feeling. After all, none of them had the same connection with Mona that she did
As the girls begin dealing with more torment from a new "A"/part of the "A" team during this upcoming season, Hanna will not only try to gain some closure but will also attempt to get some information from Mona regarding what she knows and who is involved in what's going on.
"The interaction will be a little turbulent as you can see […] It will be a little intense," said Janel Parrish, who plays Mona.
Given some of the flashbacks we've seen with Mona in previous seasons of the show, you have to wonder whether or not scenes of the new season will cause fans of the series to sympathize with the apparent psychopath. As she was recently upgraded to a series regular, it's safe to assume that more of the character's back-story will be divulged.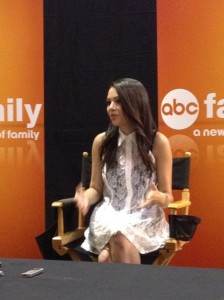 Parrish teases that "there are a lot of different colors about Mona that are going to come out that will make you change your mind every time you see her." Now that the girls need her for information, her role has become even more important or powerful.
So after all that went down last year and what's to come in Rosewood, does Benson or Parrish think there is any way to salvage the relationship between Hanna and Mona and provide some redemption for her character?
While both ladies weren't crystal clear with their responses, Parrish hopes there isn't.
"I think that's something that will never be saved and I kind of hope it isn't. Mona's a strong, smart character and I would not want her to take that back. That hatred that she has is what fuels her."
Updated: Watch the first ten minutes of the season 3 premiere and read more about what's in store for Rosewood's couples.
Will Mona's hatred cause the girls more havoc? Or is she a part of a bigger "A" at play here? Find out when Pretty Little Liars returns Tuesday June 5th at 8pm ET/PT on ABC Family.