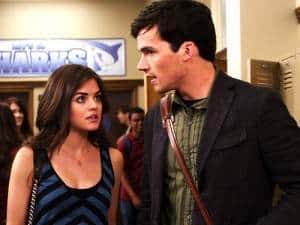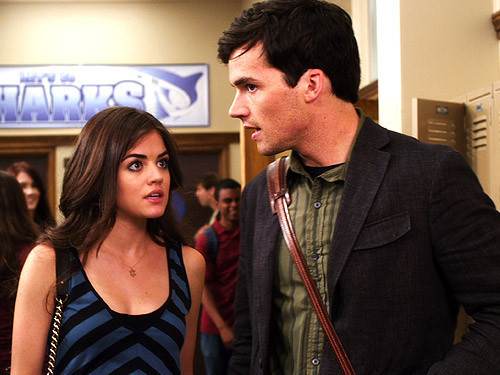 Through the past two seasons of Pretty Little Liars, our core four girls have always had a flair for the dramatic when it comes to their love lives. Season 3 of the hit show appears to be par for the course.
Although certain relationship secrets "A" used to tear them apart previously are no longer at play here (i.e. Aria and Ezra going public!), one can assume that it will be no easy feat for any of the girls to keep their relationships completely safe. On a recent visit to the set of Pretty Little Liars, we asked members of the cast to spill on what's coming up in the love lives of our Liars.
Aria & Ezra: So now that Aria (Lucy Hale) and Ezra's (Ian Harding) relationship is no longer a secret, everything should be smooth sailing for the once scandalous couple, right? Wrong. Ian Harding told TVOvermind and other reporters that the newly public couple will face more "adult problems" this season. "I think there's going to be complications with other people in my life, maybe not necessarily like another woman comes in […] but there will be other complications." After all, a happy couple is a boring couple, at least on TV, that is.
Spencer & Toby: After quite a tumultuous Season 2 for '˜Spoby,'Keegan Allen told us that fans of the couple will be mostly happy this season. Not only will we learn a little bit more about why Toby pretended to be mad at Spencer but there is a possibility that she will open up to him more about what's really going on with the girls and '˜A.'Troian Bellasario added that now that there are no monumental forces such as a crazy psychopath trying to keep them apart anymore, the real challenge for the couple will be "how are they going to tear themselves apart from the inside." Besides surviving each other, the couple will still have to deal with what Troian called "the Wren factor." She likens Spencer's attraction to the hunky doctor as mostly chemical going so far as to call him her "Kryptonite." Both stars have hinted that although Wren (Julian Morris) will still be in Rosewood, the drama he causes doesn't necessarily have to do with Spencer.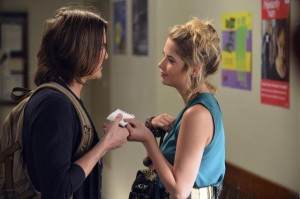 Hanna & Caleb: As for the resident sweetest couple of the show, Ashley Benson told us that although there will be some problems for Hanna and Caleb (Tyler Blackburn), they'll still be together throughout the season.
Emily & ???: Getting over the death of her first real love is going to be tough for Emily as we've already seen her turn to alcohol a bit in our sneak peaks of the season premiere. Is it possible she may start a new relationship this year? When asked about the possibility of reconciliation with Paige, Shay Mitchell said "Emily isn't really wanting to jump back into the whole dating thing again. I think right now what she needs is emotional support from a friend more so than from a girlfriend or somebody that wants a relationship.'Shay also squashed rumors that her character may be bisexual this season indicating that posts online are often there to trick the fans and press to keep the level or surprise high.
What would you like to see happen with the girls and their relationships? What complications do you think Aria and Ezra will face? Would you like to see Emily find a new girl?
Updated: Watch the first ten minutes of the season 3 premiere.
Pretty Little Liars premieres June 5th 8pm ET/PT on ABC Family. For scoop on whether Hanna and Mona can heal their friendship in light of Mona's crazy actions last season, click here.