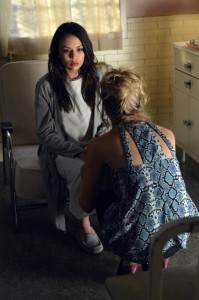 Pretty Little Liars returned this week with a shocking conclusion to the premiere episode: a new 'A' is in town.
Mona may have been content to play tricks on the girls, but the new 'A' seems to be far more dangerous. Alison's body is missing from her grave, so should we assume that the new 'A' is behind that gruesome trick? Whoever this person is, the girls are not prepared to sit around and wait for him/her to torment them freely. This time they have experience on their side, and they're prepared to fight back.
They also have another weapon that could come in handy: Mona. In the season 2 finale, Mona told Spencer that she hadn't been working alone, that there was a whole team behind her. So now that the new 'A' has stepped up his/her game, the girls send Hanna off to the insane asylum to get Mona to spill on the identities of her teammates. But we're thinking that Mona won't be so forthcoming with information.
Meanwhile, Jenna finally shows her face again in Rosewood, although her eyes are still hidden behind sunglasses. Will the girls learn the truth that her eye-sight was returned via surgery? We think they will and, once they do, they're going to be watching her very closely.
Watch the Canadian preview and three sneak peeks below for the June 12 episode of Pretty Little Liars, airing at 8:00 p.m. ET/PT on ABC Family. Also, go read spoilers for the upcoming season.
[jwplayer mediaid="148535″]
[jwplayer mediaid="148536″]
[jwplayer mediaid="148537″]