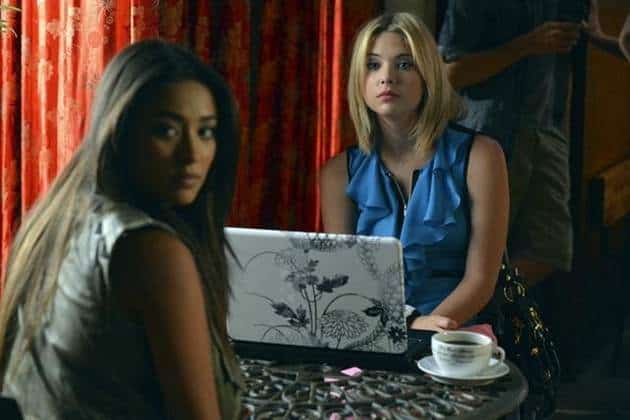 Spencer learned that Jenna wasn't alone the night she found Emily in this week's Pretty Little Liars.  Noel Khan popped up again in the episode when CeCe took Spencer and Aria to a party at the Khan cabin, and a game of Truth revealed that he was with Jenna during the night of Emily's blackout.  Are the two of them involved in Maya's death and do they know where Alison's body is hidden?  Meanwhile, Aria met Ezra's brother, who let it slip that Ezra's mother has a habit of paying his 'unsuitable' girlfriends to disappear.  And Caleb reached out to Hanna, telling her that he knows a new "A" has popped up and he wants to help, but she continued to keep him at arm's length, determined to keep him safe.
In next week's episode: "After learning that Noel and his family's cabin had something to do with "that night" and possibly Maya's disappearance, the girls work to try and put the pieces together. Hanna and Emily head out to the Kahn family cabin looking for clues linking Maya to the site, while Spencer does some snooping of her own on Noel. Could Noel have had a hand in this after all, or are he and Jenna just bluffing to send Aria, Emily, Hanna and Spencer down the wrong path?  Meanwhile, Aria must deal with the aftermath of meeting Ezra's mom and the information about Ezra's past."
Watch a preview below for the August 14 episode of Pretty Little Liars, airing at 8:00 p.m. ET/PT on ABC Family.  Use the arrows above to browse through photos for the episode.
Cast your vote on which Rosewood citizen is a member of the "A" team in ABC Family's new Suspect Tracker poll, which narrows down the suspects to 12.  And don't forget to browse and bookmark our Pretty Little Liars page for all news, reviews, spoilers, and sneak peeks for the show.