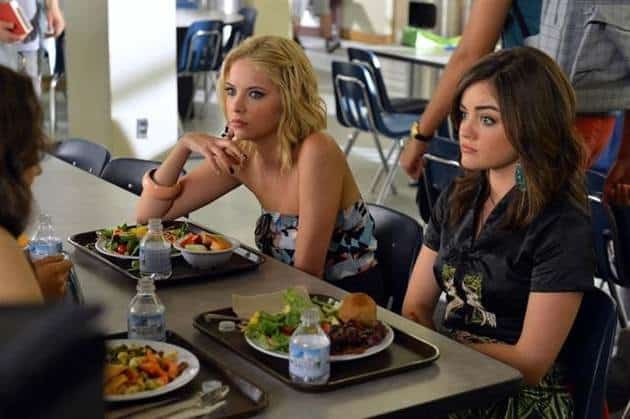 Some secrets were revealed in this week's Pretty Little Liars: Aria came clean with her father, Hanna told Caleb the truth about visiting with Mona, Spencer's mother confronted her daughter about her secret visits to Garrett and, most importantly, Jenna's eyesight secret was discovered by Toby and Spencer, with some shaky memories from Emily.
After receiving a few more mysterious gifts from the new 'A' – taken from Alison's dug up grave – Aria decided to tell her father that she and Alison had trashed his office years ago, blaming his former mistress Meredith. But being forced to apologize to Meredith for the lie also made Aria realize another manipulation of Alison's.
Hanna continued to visit Mona at her friends' requests, hoping to get answers about the new 'A'. While initially frustrated by Mona's lack of response, she eventually turned over a new leaf when Wren gave her some advice about how to handle her friend. She also came clean about the visits to Caleb, but the only thing she got out of Mona was her girl asking if Hanna and her friends were getting the mysterious texts again. Meanwhile, Spencer continued to visit Garret in prison until confronted by her mother, who mysteriously decided to take on Garret as a client, putting an end to his offer to spill some secrets of his own to Spencer. And Emily continued to do poorly in school, particularly when memories continued to return of the night she dug up Alison's grave. Who brought her there? None other than Jenna, who we all know can see, and now the girls know as well!
In next week's Pretty Little Liars, the girls decide to live by the old adage "keep your friends close, keep your enemies even closer". Aria decides to become Jenna's accompanist to keep a closer eye on her, while Hanna reaches out to Lucas and learns that Mona is still hiding secrets. And when Spencer tries to figure out why her mother became Garrett's lawyer, she stumbles onto a bigger Hastings family secret.
Watch a preview below for the June 19 episode of Pretty Little Liars, airing at 8:00 p.m. ET/PT on ABC Family.
Browse and bookmark our new Pretty Little Liars page for all of our news, review, spoilers, and sneak peeks for the show.