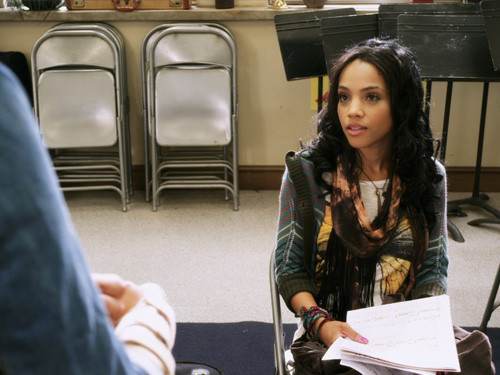 When Pretty Little Liars returns for its third season, we'll be welcoming some new characters to Rosewood. And it sounds like most of them will be very connected to the central mysteries this season.
Season 2 of Pretty Little Liars ended with the terrible discovery that Maya had been killed. We know that Emily is still grieving Maya's death (watch the first 10 minutes of the premiere), but the death will factor heavily into the storyline and it's the event that introduces a new character: Maya's cousin, Nate. Nate will become close to Emily, Shay Mitchell (Emily) told us during a recent visit to the set. "He comes in and he's a great character because, yes, he is Maya's cousin and I think that [for] Emily, in some way, it's a reminder of Maya and it brings a closeness to her. They were family and for Emily it really does help in that grief period because he understands what she feels too. That's not to say that her friends don't [understand her] but there's a different kind of connection when it's a family or someone that you love in that sort of way. He does help with that."
Troian Bellisario (Spencer) also warned that "my very good friend Vanessa Rae just got cast as somebody who has long blonde locks and definitely scares the bejesus out of the girls. I don't know if I can say more than that but I'm very excited to have her on the show."
Will fans of the books recognize these new characters? Keegan Allen (Toby) said: "Possibly. They're might be some characters coming from the books. They're might be some characters being grabbed out of space. There are definitely new characters who interact with all of us in a very authentic way to create further storyline with "A" and everything [else]."
Pretty Little Liars returns for its third season on Tuesday, June 5 at 8:00 p.m. ET/PT on ABC Family. You can also read more about the romantic relationships for season 3 and how last season's reveal will affect Mona and Hanna's relationship. Plus, stay tuned for more spoilers from the set!