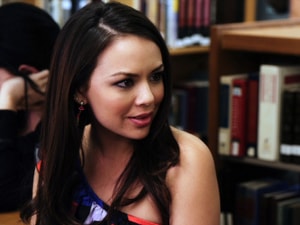 A lot happened in the Pretty Little Liars Halloween episode (read our recap), including the murder of Garrett and the discovery of a body that is likely Alison's.  After boarding a train for a Halloween party, the girls quickly realized that some people on the train weren't there to celebrate the holiday.  Garrett came aboard in order to give Spencer a crucial piece of information: Jenna believes that he killed Alison, but he actually saw Alison later that night (after his fake attack on her) with Byron, Aria's father.  How does Byron fit into this scenario?  Did he actually kill Alison or is he just hiding some important information about her final moments?
After he delivered this news, Garrett was murdered and Aria was kidnapped and stuffed into a box with his corpse (ewwwww).  As the other girls frantically tried to find her, they were attacked and tormented by members of the "A" Team, including Mona, who had ducked out of her mental hospital for the night.
When Pretty Little Liars returns to finish out its third season beginning on January 8th, Mona will be getting out of the sanitarium for good and returning to high school.  The girls disagree on how to handle their former tormenter now that she's back in their lives for good.  But can they extract valuable information from her?  Plus, how will Aria deal with the news about her father? 
Watch a preview and sneak peek below for the January 8 return of Pretty Little Liars.  Keep an eye on our Pretty Little Liars page for more photos, spoilers and sneak peeks for the rest of the season.
http://youtu.be/Ts0vqx-8BtQ