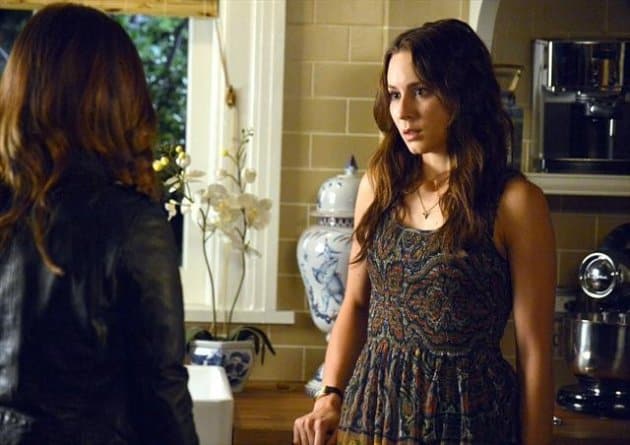 Spencer got the shock of her life in this week's Pretty Little Liars when she discovered that Toby was a member of the "A" Team and had been lying to her this entire time.  The episode ended with her crying her heart out, not knowing that Toby had completely bailed on her after being discovered.
It looks like Spencer won't be revealing this monumental secret very soon.  Instead, she starts withdrawing from the other girls at every opportunity.  Not only that, but she's starting to get fed up with everything, including their search for Alison's killer.  When Emily delivers news of a new mystery man that Alison was afraid of, Spencer just shoots back that they shouldn't care what happened to Ali since she was clearly a bad friend.  Obviously Spencer's preoccupied with the Toby situation and I hope she'll come clean to her friends soon before this tears them apart.
Watch three sneak peeks below for the January 28th episode of Pretty Little Liars on ABC Family.
[FLOWPLAYER=http://www.tvovermind.com/wp-content/uploads/2013/01/PLL317_fv1.MPEG2-PS.png|http://www.tvovermind.com/wp-content/uploads/2013/01/PLL317_fv1.MPEG2-PS.flv,480,320,true]
[FLOWPLAYER=http://www.tvovermind.com/wp-content/uploads/2013/01/PLL317_fv2.MPEG2-PS.png|http://www.tvovermind.com/wp-content/uploads/2013/01/PLL317_fv2.MPEG2-PS.flv,480,320]
[FLOWPLAYER=http://www.tvovermind.com/wp-content/uploads/2013/01/PLL317_fv3.MPEG2-PS.png|http://www.tvovermind.com/wp-content/uploads/2013/01/PLL317_fv3.MPEG2-PS.flv,480,320]