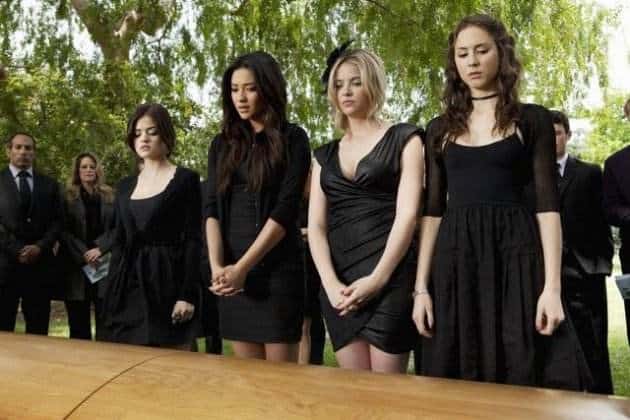 "A" sent the girls on a few missions in the midseason finale of Pretty Little Liars and, as usual, things did not turn out well for nearly everyone involved. Aria was tasked with driving Jackie out of town, but Ezra's ex-fiance is a wily one and ended up turning the tables on Aria. Hanna was blackmailed into stopping her father's wedding. Spencer was forced to break up with Toby. And Jenna and Garret revealed themselves as total masterminds who were setting the girls up for Alison's murder.
Remember the hockey stick that Spencer thought killed Alison? It turns out that it was actually a shovel. The same shovel that was conveniently found with the girls when the police came to arrest them. The girls will be in very serious trouble in the remaining episodes of season 2. There might not be formal charges against them, but TV Line reveals that they will be persons of interest again.
But the most shocking moment is the blatant hint that it was Jenna and Garrett who killed Alison. With all the twists and turns in this show, however, we have to wonder if that's really the truth. Are Jenna and Garrett also "A"? Are more people involved in who is "A"? Would that account for the fact that "A" seems to be everywhere at once?
The show will be on hiatus until January 2012 (with a special Halloween episode on October 19 to help ease the sting of such a long hiatus), but spoilers are still trickling in for the next new episodes. Three new characters have been cast for season 2 of Pretty Little Liars:
(1) Anthony Tyler Quinn as Ron. According to EW, the Boy Meets World alum has been cast as an old friend of Aria's father, Byron. Ron will be returning to Rosewood from overseas with a 16 year old son in tow. He'll be appearing in one of the early episodes in 2012. Could this mean a new storyline involving Aria's father?
(2) Alexander Nifong as Sam. THR says that Sam is a blind student who was a classmate of Jenna's when she attending the blind school in Philadelphia. Showrunner Marlene King says that he'll have a big role in the show. Sam's reappearance in Jenna's life will coincide with her pursuing the surgery to regain her sight. How successful that surgery will be remains a Pretty Little Liars mystery.
(3) Shane Coffey as Holden. THR reports that Holden is an old friend of Aria's from her childhood who will be appearing in the third and fourth episode of 2012 (episode 15 and 16 overall). Holden will be returning to Rosewood after being away for a while. Could he be another wrench in the Aria/Ezra relationship?
In addition, the next episode won't be picking up right where tonight's finale left off. Episode 2.13 will jump ahead more than a month, according to Zap2it. Spencer's sister Melissa will also return in the second half of the remaining episodes and Kate will step up as a big nemesis for Hanna.
Expect the rest of season 2 to answer some big mysteries and introduce others. King told Wetpaint that two new mysteries will be introduced by the end of the second season that will still keep Sasha Pieterse (who plays Alison) in the picture.
Updated: watch a trailer for the Halloween episode here.
To read more spoilers about the upcoming Halloween episode and more spoilers about early 2012 episodes, click here. And keep checking our Pretty Little Liars season 2 spoiler page, which will be updated with new spoilers as they come in.