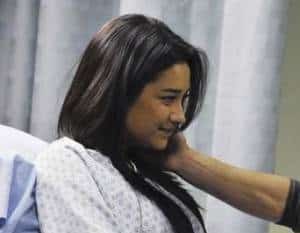 Ian is dead, but Emily, Hanna, Aria and Spencer still have a lot of problems, and a lot of secrets. Thanks to ABC Family, we have some spoilers for the upcoming August 2 episode of Pretty Little Liars.
In the episode, Emily's juggling of secrets finally catches up to her. After trying to keep all of her recent lies straight, she's shocked when her father returns to Rosewood for a big swim meet. She collapses and lands herself in the hospital. Emily understandably wants to come clean to her father, but 'A' might beat her to the punch. According to the network "'A' reveals his/her part in Emily's swim career." Eep! Will this mean Emily has to move to Texas when the truth comes out?
The recent reappearance of Wren on Pretty Little Liars was not a one-off. Wren will also be appearing in this episode while Emily is in the hospital. And from the looks of the photo below, he'll be interacting with Spencer. With Wren reappearing in Spencer's life, what will this mean for her relationship with Toby?
Spencer and Aria take the opportunity to do some digging into Alison's death while visiting Emily in the hospital. The big question they're trying to answer is how the broken field hockey stick factor's into Alison's death.
Hanna, meanwhile, has her own problems. Her father's "Save the Date" wedding invitation arrives. Will this mean he'll abandon her again? And what about Caleb? He might leave town before some skeletons in his past come back to haunt him.
For more spoilers on season 2 of Pretty Little Liars, click here. Below are some photos from this episode. More will be posted later!
[imagebrowser id=1091 template = flipped]
clarissa @ tvovermind.com
twitter.com/clarissa373
twitter.com/tvovermind