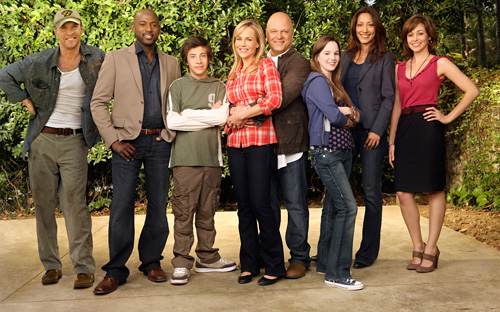 ABC's Development Czar, and network president, Stephen McPherson introduced the fall line-up today with one show constantly popping up in the margins. LOST. That's right, LOST is leaving the air this season – but the presence of ABC's acclaimed drama served as a constant reminder that ABC had established itself as a leader in the 'event' and 'appointment' TV markets. While the world shifts away from scheduled viewing, relying more and more on online, DVD, and on-demand, there are few programs that rank as must-see-on-broadcast-night. LOST not only qualifies in that category, it practically invented it for the modern age of TV viewers.
McPherson highlighted LOST to the press and advertising gurus in attendance at today's Upfronts, and assured all that ABC would remain the leader in this niche. And what better way to introduce the shows that ABC hopes will fill LOST's 'event' status shoes than LOST star Matthew Fox. Fox introduced a farewell video from the LOST cast, and followed with the presentation of "No Ordinary Family" and "My Generation."
Of the two, No Ordinary Family is the most compatible with LOST audiences. Like LOST, No Ordinary Family uses a plane crash as its catalyst – this time a crash into strangely iridescent waters. The Family of the title survives, only to find that they are developing super powers. No Ordinary Family has some pretty inspired casting including Michael Chiklis ("The Shield") as Jim Powell, and Julie Benz ("Dexter") as Stephanie Powell. Both have had significant roles in other appointment TV mainstays and from the looks of the trailer will be bringing their A-Game to to No Ordinary Family.
[media id=89 width=480 height=356]
My Generation is far more in the experimental side of things. A straight up drama, My Generation is part prime time soap and part mockumentary, following a reality show as it catches up with its subjects ten years later. Perhaps most interesting here is that ABC is gambling on this high concept piece to become your latest cathode addiction, and not another dark serialized mystery with intense characters and oblique plots. Aside from the renewal of V – as a midseason show – No Ordinary Family is the only fantasy piece to roll out this season. ABC has clearly learned their lesson.
The ABC slate aside from these two appears pretty much in the playing-it-safe zone; new iterations of Cops and Robbers, Lawyers and Prosecutors, and Doctors that look good with their shirts off. Whether either of them will attain the 'event' status of LOST, though, depends entirely on the mysterious tide of the zeitgeist. Stay tuned.
[media id=86 width=480 height=356]