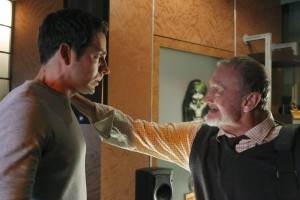 Tonight, it's Halloween at the Buy More! (Oh, yeah, and Chuck finally comes face-to-face with his mother, too. Not to mention Freddy Krueger.)
In "Chuck Versus The Aisle of Terror," Jeff (Scott Krinsky) and Lester (Vik Sahay) are put in charge of getting the Buy More ready for Halloween, which is just begging for shenanigans. (You can read my interview with them here.) Meanwhile, Devon (Ryan McPartlin) and Ellie (Sarah Lancaster) get a visit from the former's mother (Morgan Fairchild).
All this, however, is secondary to what Chuck fans have been waiting for all season: Chuck finally reuniting with his mother Mary Elizabeth (Linda Hamilton), especially now that he suspects she may be one of the bad guys. His suspicions are not helped when they cross paths during Team Bartowski's next mission – to stop Dr. Stanley Wheelright (Robert Englund) from releasing a deadly toxin. An appropriate villain for a Halloween episode, right?
Clarissa has posted a sneak peek of the episode here, and you can view two videos below:
"Chuck Versus The Aisle of Terror" airs tonight at 8 PM ET/PT on NBC. You can come back here for full coverage – we'll have a recap and review to break down all the Halloween goodness.