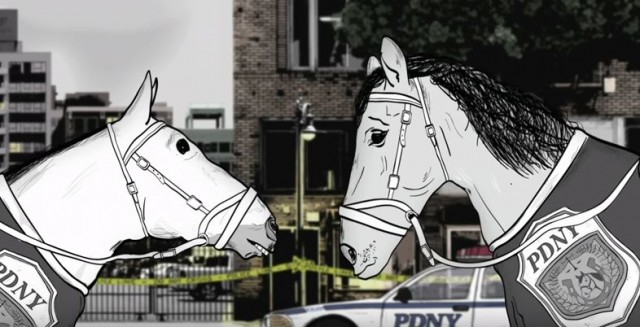 Is everyone ready for the new comedy series Animals on HBO? It's a new show from the Duplass Brothers. New York City, Earth's least habitable environment, is home to a host of downtrodden creatures. Whether it's lovelorn rats, gender-questioning pigeons or aging bedbugs in the midst of a midlife crisis, the awkward small talk, moral ambiguity and existential woes of these non-human urbanites prove startlingly similar to our own
For the premiere episode: An uninitiated rat gets mating tips from his friend at a subterranean party. A pair of police horses complains about an old acquaintance who's made it big. A bedbug has a midlife crisis. The show was written and directed by Phil Matarese and Mike Luciano.
Matarese and Luciano voice many of the characters on the show, which also features such guest voiceover artists as Eric Andre, A$AP Ferg, A$AP Rocky, Katie Aselton, Jessica Chastain, Rob Corddry, Jay Duplass, Mark Duplass, Ellie Kemper, Nick Kroll, Lauren Lapkus, Melanie Lynsky, Marc Maron, Kumail Nanjiani, Horatio Sanz, Adam Scott, Molly Shannon, Wanda Sykes, Cobie Smulders, Kurt Vile, Matt Walsh, Zach Woods and Steve Zissis.
The series premiere is also available to stream today on HBO NOW and HBO GO.
Be sure to catch Animals, February 5 at 11:30/10:30c on HBO