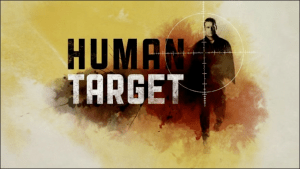 Season 2 Premiere: Friday, October 1 at 8:00 PM on FOX
Last year's best new series you weren't watching makes its action-packed return in just a few weeks. Christopher Chance (Mark Valley), Laverne Winston (Chi McBride), and Guerrero (Jackie Earle Haley) are back to protect those whom no one else can help, through whatever means necessary. (For additional inside scoop, check out my exclusive interview with new showrunner Matt Miller here.) Here's a look at what's ahead for Chance and Co. in Season 2.
What You Should Know:
If you're just now jumping on board the Human Target train, here's a brief summary: Christopher Chance (no, that's not his real name) used to be a professional assassin for a mysterious group, of which we've only met his boss Joubert. After being told to kill an innocent woman, he changed sides and now works to protect people in need of some serious help, all while trying to avoid his past. The first season featured amazing action, sly humor and a season-long arc exploring how our hero came to be the man he is today.
Season 1's finale, "Christopher Chance," showed us how Chance went from hired killer to hired savior – and how his team was assembled. We found out Winston's first name is Laverne, that Guerrero once worked with Chance and Baptiste, and we met the oft-mentioned, ill-fated Katherine Walters (Amy Acker), only to watch her demise. However, the season ended on a cliffhanger when Winston was kidnapped by Chance's former boss (Armand Assante) in order for the bad guys to obtain an important book that went missing on that fateful day.
Behind the scenes, Human Target has undergone a bit of a production shakeup, with Matt Miller (Chuck) taking over control of the show from first-season boss and creator Jon Steinberg. Steinberg remains on the show as a writer, much to the gratitude of the show's loyal fans. Bear McCreary, the show's composer, has also been replaced by Tim Jones, who has also done music for Chuck.
The show was nominated for three Emmy awards, including one for Outstanding Stunt Coordination, but failed to win. DVDs for the first season arrive on September 21, 2010.
What To Look For:
Season 2's premiere introduces two new series regulars, both women: Ilsa Pucci (Indira Varma), who hires Chance to protect her after her husband's death and ends up becoming his boss when she buys the company, and Ames (Janet Montgomery), an enigmatic young thief with an attitude who has some sort of past connection to Guerrero. The biggest question of the season is how the addition of new characters into the series, especially two women in a male-oriented series, will change the show's close-knit dynamic.
The premiere also guest-stars Tim Omundson (Psych), reprising his role from the first-season finale, and Dollhouse's Tahmoh Penikett. Episode two of the second season will see appearances from M.C. Gainey (Lost) and Molly Parker (Swingtown, Deadwood).
There will be some familiar faces in Season 2. In the fourth episode, written by Steinberg, fans will be treated to the return of Chance's nemesis Baptiste (Lennie James), who has apparently been doing time in a Siberian prison since the events of the episode that bears his name. Chance will be forced to break him out and obtain his help in a case. Leonor Varela is also slated to reprise her role as Chance's ex-flame Maria (from the episode "Salvage & Reclamation"). As of right now, there are no plans for Emma Barnes, the FBI agent played by Emmanuelle Vaugier, to return as the actress is currently working on USA's Covert Affairs. (You can read my interview with her regarding both shows here.)
Plotwise, Chi McBride has teased that we will meet both Winston's ex-wife and his ne'er do well brother at some point in this season. He has said that fans will be treated to more of the characters' lives when they're "off the clock" this season than last.
A concern of fans may be the show's risky Friday night time slot. While it does pair the show with the entertaining Matt Nix series The Good Guys, Fridays are a difficult night for any network as people tend to go out on that night, and it hasn't been a successful night for FOX since The X-Files, which ended in 2002. Human Target may end up with a quick hook, if its ratings go into a decline.
Human Target premieres Friday, October 1 at 8:00 PM on FOX.