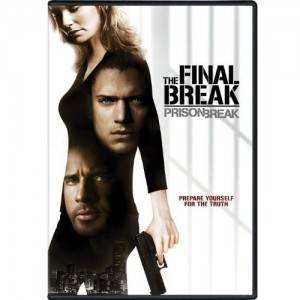 I don't know about the rest of you, but I felt sad at the series finale of Prison Break. Seeing Michael Scofield be excited about his unborn baby one minute and then seeing his grave five minutes later sucked. I felt a little cheated not knowing how he died.
Then, there was a little thing called "Prison Break: The Final Break". These bonus episodes consisted of an extra 89 minutes that took place shortly after Michael and the gang were exonerated in the finale. After seeing exactly how Michael died, I felt a better sense of closure.
I wish that Fox had chosen to air those bonus episodes in North America (they aired in the U.K. and other countries overseas), but it was not meant to be. Instead, the episodes were released on DVD on July 21, 2009.
A stand-alone DVD, separate from the Season 4 DVD boxset, "The Final Break" tells a stand-alone story that manages to bridge a gap in the series finale:
The federal government can't touch Michael Scofield, so they're going after the woman he loves. When Sara is arrested for murder, only Michael can rescue her – and their unborn child – from an impenetrable women's prison. With a price on Sara's head and time running out, Michael must rely on his deadliest enemies to help attempt the most daring breakout ever.
If you haven't already watched "The Final Break", I'm not going to spoil the ending for you. If you're debating whether to buy the DVD or just can't wait until it's delivered, you can read a recap I wrote at my old Prison Break fansite.
"The Final Break" is now available for purchase on DVD and Blu-Ray. You can view a fan-made trailer for "The Final Break" below.