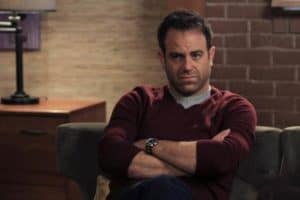 Private Practice returns with all new episodes on Thursday, January 5 and ABC has released a few spoilers for two upcoming episodes in January.
January 5, Episode 5.10 "Are You My Mother?": Cooper struggles with whether or not to punish Mason after he catches him stealing; Pete and Violet find it hard to split time with Lucas now that they're living apart; Addison makes changes in her home life to prepare for a potential new baby; Violet and Jake work with two women and a man involved in a polyamorous triad; meanwhile Amelia returns to the practice and realizes how badly she hurt Sheldon when she was abusing drugs. Guest stars include Audrey Marie Anderson as Rose Filmore, John Sloan as Evan Olsen, Jamie Silberhartz as Kendra Templeton, Bresha Webb as Melanie White and Aloma Wright as Mildred Clemons. (Note: this episode begins at 10:02 p.m. ET because Grey's Anatomy will run slightly longer).
January 12, Episode 5.11 "The Standing Eight Count": Pete, Violet, Sam and Addison adjust to their new, singles lives in different ways. Addison questions how much she wants a baby and confides in Jake, Violet considers an offer to go on a date with a young, hot paramedic, and Sam and Pete have a bachelors'night at a local bar. Meanwhile, Charlotte faces a personal, ethical dilemma when Amelia uncovers a secret about Mason's mom, Erica, and Sheldon refuses to bend to the pressure when an old friend from the police force wants him to rubber stamp a fellow cop suffering from PTSD. (Note: this episode begins at 10:02 p.m. ET because Grey's Anatomy will run slightly longer).
Watch two sneak peeks below from the January 5 return of Private Practice.
Want to know when your other favorite shows return in January? Check out our handy schedule of midseason return dates.