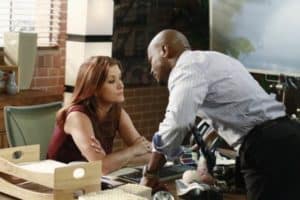 Remember a little show called My So-Called Life? Star A.J. Langer will be making a guest appearance on the October 20 episode of Private Practice.
In next week's episode, entitled "Remember Me", Cooper is in for one hell of a surprise when one of his former flings arrives at Oceanside Wellness. Addison has to counsel one of her patients, Jodi (Kathleen Rose Perkins), who has eight and a half months pregnant and has been suffering from severe memory loss after a traumatic car accident. Meanwhile, we learn that Jodi's husband, Zach (Eyal Podell), is debating leaving his wife and taking the baby with them, which causes Sheldon and Violet to clash.
Note that this episode will be starting two minutes late because Grey's Anatomy will be running a few minutes long.