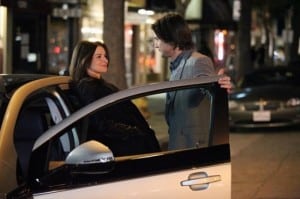 The winter finale of Private Practice brought us to the cusp of the King-Freedman birth. Â But don't forget that each episode has worked through the same timeline, just focused on a different character.
The last installment of Private Practice centered on Dr. Charlotte King and her bed-rest while waiting to deliver the remaining two triplets. Â While Charlotte was stranded, trying to maintain her control of the hospital, Cooper was torn between caring for his wife and his daughter in the NICU, bringing some serious emotional depth and conflict for the couple. Â Pile on top of that Mason's bullying at school – surely a sign of stress on the kid.
Again, the episode took some interesting creative turns – namely, there were odd dance numbers before each act of the story. Â Surely there is a reason for this in Shonda Rhimes mind – but I don't know what it could possibly be. Â On a more fitting note: the episode also featured scenes in which the audience heard what Charlotte was thinking, and saw her exact point of view. Â Personally, I thought they told Charlotte's story very well, in a way that helped remind the audience that Charlotte's not just the stone-cold Chief of Staff at St. Ambrose – she does have a heart.
For those who have been complaining about the lack of Amelia in the past episodes, perhaps tonight will assuage your concerns. Â Entitled "Good Fries Are Hard To Come By" – tonight's episode focuses on the neurosurgeon. Â Now sober for over a year and recovering emotionally, Amelia goes on a series of disastrous blind dates, set up by no other than her colleagues. Â After deciding that she'll simply be alone, she teams up with James Peterson for a medical case, which in turn leads to dinner…and more.
Tune in for Private Practice tonight at 10/9c on ABC.
PS – Can you believe that there are only three more episodes left?