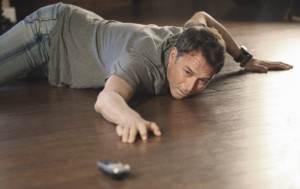 A special two-hour season premiere episode of Grey's Anatomy will be airing on September 22, but Private Practice returns for its fifth season next week on September 29.
Addison bought Oceanside Wellness Center at the end of season 4 and this will immediately cause problems among the doctors. They're all used to managing the medical center together, so having to report to one boss will cause discord among the friends. Addison also opted not to head to Fiji with Jake Reilly (played by Benjamin Bratt), but she's in for a shock when she sees him unexpectedly at the medical center.
Peter is in a lot of danger, having collapsed in front of his young son after suffering a heart attack. While we know that he'll recover, the attack will have him re-evaluating his life and choices.
Charlotte had a tough year, but she has a more positive outlook thanks to her friendships and her recent marriage. But she'll be watching over Amelia, who is slipping in her alcohol recovery.
We've already posted several sneak peeks for the season 5 premiere of Private Practice (view them here) and now, thanks to ABC, we have photos to share with you.
Private Practice returns for an all new season on Thursday, September 29 at 9:00 p.m. ET on ABC.