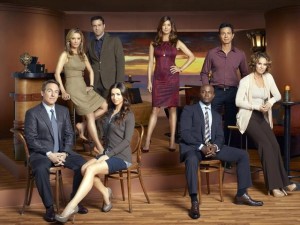 When we last saw the doctors of Seaside Wellness, Pete was dealing with the legal repercussions of his mercy killing of a patient, Mason decided to call Charlotte 'Momma,' Amelia had her baby — and donated his organs — and Sam spontaneously proposed to Addison while she was waiting for Jake.
Season 5 surely tried each of these characters in a way that only a Shonda Rhimes drama can.  But, come the season 6 premiere, a bit of time has passed for the doctors, and we're going to find out just where all the up-in-the-air stories have taken everyone.
So, what's coming up?
When the show returns tonight, Pete will be on trial for his controversial actions, but with actor Tim Daly's departure from the show, there are a handful of options for how exactly this is going to happen.  Perhaps Pete will run, leaving Violet and Lucas behind, though, with creator Shonda Rhimes' tease of a death, who knows?
And of course, the premiere will deal with Addison's romantic drama — who did she choose? Jake or Sam?  Addison, who has long awaited her own happy ending, finally got the child she wanted — baby Henry — will be settling into her new life, balancing her new role as mother, her professional life, and, well, a life with the man she's chosen.
Tonight's episode will also follow Amelia as she approaches a major milestone in her life and Sheldon's reconnecting with someone from his past.
The Private Practice season 6 premiere, "Aftershock" airs tonight at 10/9c on ABC.