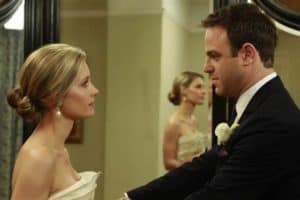 We're coming up on the season finale of Private Practice. New episodes will air tonight and on May 12, and the season finale will air on May 19 on ABC.
Tonight marks Cooper and Charlotte's wedding. While the big day is finally here, not everyone wants to celebrate. The bad mood from some of the guests leads Cooper and Charlotte to wonder whether they're doing the right thing.
The doctors of Oceanside Wellness are put in a serious bind. After Katie returned last week and threatened to sue, an investigator will be appearing tonight to question Violet and the other doctors about Violet's alleged breach of confidentiality. The doctors are torn between protecting Violet and protecting the future of their practice.
Below are five sneak peeks for tonight's new episode of Private Practice, courtesy of ABC. You can also view promo photos for the episode that we previously posted.
clarissa @ tvovermind.com
twitter.com/clarissa373
twitter.com/tvovermind