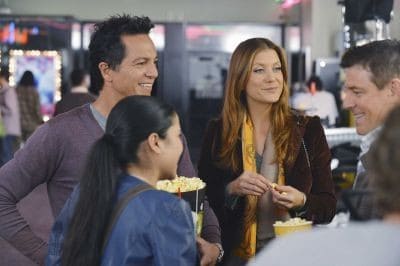 That's right!  ABC is giving us two episodes of Private Practice this week!  This is likely to play catch-up after "The Next Episode" got bumped back two weeks because of Hurricane Sandy coverage.  So, "Apron Strings" will air tonight as usual, and "The World According to Jake" will air tomorrow.
Last week's episode of Private Practice went documentary-style, centering on Dr. Sam Bennett.  With the help of some rather invasive questioning from the show's producer, and very intrusive shots by camera men, we watched as Sam's life was stripped at one of the absolute worst moments.
When his mother arrives under the guise of helping out her boss, Raymond, Sam provides his utmost care to the man, while also trying to balance the probing camera crew.  While somewhat jerky – the integration of documentary shooting with standard kind of threw the audience around a bit – we saw an interesting mix of Sam's private life and how he handled being on camera.  The shock of the episode came in when, as his mother's boss is lying in a hospital bed (his wife out of the room), Sam's mother leaned in to kiss him.  And not a gentle peck either.
After Raymond passes out at a staged party at Sam's home, it became clear than he was sufferring from more than just heart trouble – he needed a new lung, or tissue from a living donor.  In the midst of the tension and fear for his life, Sam's mother let it slip that Raymond is, in fact, Sam's father.
It had been unclear up until that moment just what happened to that part of Sam's life.
Of course, the revelation lead to an angry outburst from Sam, at the situation, at the camera crew, and his mother.  But Sam being the respectful and caring guy that he is, does end up coming to some sort of peace with his mom – Alfre Woodard totally killed this scene, by the way – and even offers to donate his tissue to his biological father, should he want it.
Now, Raymond does not agree to Sam's offer, instead deciding to go home with his wife to live out whatever days he has left.  Though not a "happy" ending, we did see Sam thank Raymond for a toy stethoscope he had been given as a child – a somewhat cliched moment, but touching nonetheless.
Every other doctor was pushed to supporting roles, lending their opinion of Sam to the camera periodically throughout the episode, however, these little sessions with the camera crew also featured their own insecurities – Violet is still concerned with Sarah Nelson's disappearance, Cooper is worried about raising four children.  This was something interesting in the episode, that I'm not sure I was expecting.  At first glance, the shifting of everyone else's part in the episode was awkward, but the method of storytelling actually did a decent job of revealing more in a shorter period of time.
Tonight's episode of Private Practice focuses on Addison.  When Henry's biological mother shows up again, Addison is forced to deal with the challenges of how, and if, she should be involved in her son's life.  She will also be reconnecting with her mentor, who has a painful secret to share with Addison.  No doubt this will be a very emotional episode, and with the way things have been going so far, I'm almost afraid of what Shonda is going to throw out next.  But I do like how storylines seem to be carrying over through multiple episodes, so there is a faint glimmer of hope that we won't leave Addison tonight (or at the end of the season) totally devestated.
Tomorrow night's episode, "The World According to Jake," is obviously Jake-centric.  Jake learns that he has to meet with baby Henrys social worker, and begins to worry that an incident from his past will rear its ugly head.  But what exactly is the "incident"?  Perhaps something to do with his mysterious late wife?  Or maybe even something having to do with what Jake was up to before becoming a world-class fertility specialist?  On top of his personal demons, a high-maintenance patient makes Addison suspicious.  Can these two even handle any more drama?
Private Practice will air both tonight and tomorrow night (Wednesday) at 10/9c on ABC.