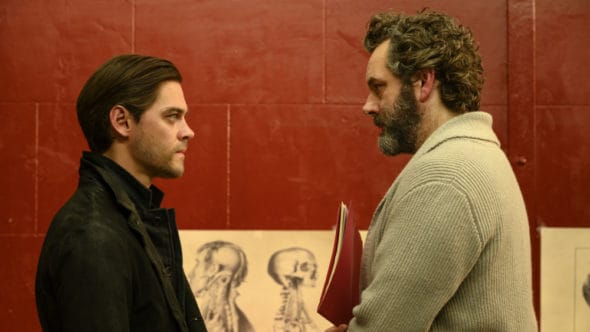 Prodigal Son is a new FX show that is set to start up on September 23 of 2019. For those who are curious, it seems that it is supposed to be a crime drama centered on a criminal psychologist by the name of Malcolm Bright. Here are 10 things that you may or may not have known about Prodigal Son:
1. The Name Refers to the Parable
Of course, the name of the show is a reference to the famous Biblical parable. For those who could use a refresher, the prodigal son refers to the younger of two sons who asks his father for his share of the inheritance before heading out on his own. However, he spends his money in a wasteful manner, so much so that he returns home with the intention of asking his father to take him back as a servant. To both of the sons' surprise, the father doesn't scorn him but instead chooses to celebrate his return.
2. The Main Character Is a Criminal Psychologist
As stated earlier, the main character Malcolm Bright is a criminal psychologist, meaning someone who studies the views, the choices, the thoughts, the behaviors, and the reactions of people who commit crimes. To be exact, Bright is a profiler, meaning that he helps out with the use of the investigative tool called offender profiling. It is interesting to note that while offender profiling has widespread acceptance with both the public and the police, there is a serious lack of scientific research into its true effectiveness.
3. The Main Character's Father Is a Serial Killer
Perhaps unsurprisingly, Prodigal Son's premise is that its main character's father is a serial killer. Due to this, the main character has inherited some of the same characteristics as his father, which in turn, means that he has a superior understanding of how serial killers think. Suffice to say that this is a pretty cliched concept, though to be perfectly fair, there are times when something cliched is exactly what people want.
4. The Father Is a Supporting Character
Naturally, the father is a supporting character in Prodigal Son. In short, the marketing for the show has described Dr. Martin Whitly as someone who is rich, charismatic, and intelligent. Unfortunately for everyone else, he is a monstrous individual who has killed at least 23 people. The show hasn't come out yet, meaning that there is a serious lack of information about what interested individuals can expect. However, it seems safe to say that the combination of rich, charismatic, and intelligent helped Dr. Martin Whitly conceal his true nature until it was too late for many, many of his victims.
5. The Mother Is a Supporting Character
Meanwhile, the main character's mother is described as a rather antagonistic figure as well, though nowhere near the same extent as Dr. Martin Whitly. In short, Jessica Whitly is an elegant woman with a refined sense of sarcasm that she wields with consummate skill. Unfortunately for Bright as well as presumably anyone who crosses her, Jessica Whitly has no issues whatsover with telling other people exactly what she thinks of them in cutting language.
6. There Is a Sister
Within the family, there is apparently one person who is on Bright's side. This would be his sister Ainsley Whitly, who is described as a very normal person who works as a TV journalist. Relationship-wise, Ainsley is similar to Jessica in that she doesn't quite approve of what Bright is doing. However, in her case, it is motivated by her desire for him to take a break from murder cases so that he could live a norma life.
7. The Cast Is Rounded Out By Bright's Co-Workers
Besides Bright's family, the cast has plenty of Bright's co-workers as well. For example, there is Gil Arroyo, a NYPD detective who serves as Bright's mentor as well as the one who heads up an entire team of police officers. Likewise, there are Dani Powell, a NYPD detective who is impressed by what Bright does, and JT Tarmel, a NYPD detective who takes a much more skeptical stance because he wonders whether Bright is a "psychopath" himself.
8. The Show Has Comedic Elements
Since Prodigal Son is a crime drama, it seems safe to say that much of it will follow a very formulaic pattern that should be familiar to anyone who has ever watched one of those shows. However, it is interesting to note that it will stand out in that it is supposed to have comedic elements as well. Once again, not too much information has been released about this. However, considering the subject matter, it should come as no surprise to learn that the comedy will be dark comedy.
9. More Realistic Take on Trauma
Curiously, Prodigal Son seems to have a more realistic take on trauma than a lot of its counterparts. Generally speaking, it isn't uncommon for such shows to have damaged main characters. Most of them express their damage by being very unpleasant (but nonetheless very entertaining) to other people. However, Bright seems to be express his trauma through night terrors and other symptoms, which is a refreshing change that could foretell something good for the series as a whole.
10. The Father Promises to Be Very Important
It seems probable that the father will be very important for the show as a whole. In part, this is because the marketing suggests that he will play a major part in the show's narrative. However, it should also be noted that the father is played by Michael Sheen, a Welsh actor who can claim remarkable range. For proof, look no further than the fact that one of his most recent roles was on Good Omens, in which he played an angel named Aziraphale who teamed up with a demon for the purpose of preventing Armageddon because they enjoy living on Earth too much.