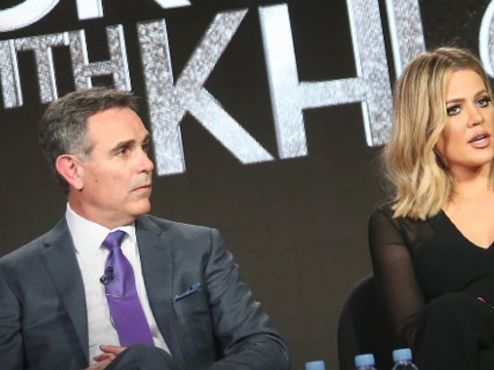 You would think a show that's starting in only two weeks, and especially one starring one of the Kardashian's, would be a little more hyped right? Have you even heard of Kocktails with Khloe?  To be 100% honest as of this writing I have not.  Apparently I'm not the only one who seems a little concerned that a show starring Khloe Kardashian is getting very little press.   Apparently the producers are super concerned.  An insider spoke about the situation saying:
"They are really concerned with how little hype the show is getting and are really concerned with the fact that the show's trailer has gotten fewer than 10,000 hits on YouTube. It is just very alarming to them, and they have asked Khloe to step up her game in terms of promotion."
Surprisingly the show will not be airing on E!. It's been picked up for eight episodes and will be premiering on FYI. The premise of the show will be Khloe Kardashian sitting down with guests and talking with them during each episode. From what we hear the show is having an extremely tough time booking talent. Would you want to sit down and talk with Khloe? Is this just another talk show? Wouldn't you rather meet with Kim or Kris? Or how about Kendall or Kylie?
As early as last week Khloe Kardashian was at the Television Critics Association she was supposed to be given the opportunity to plug Kocktails With Khloe. Instead she was bombarded with questions about Lamar Odom. It seems the only press the show's gotten has been from Khloe herself as evidenced in this tweet.
My talk show #KocktailswithKhloe is coming to @FYI on Jan 20! 🍸 pic.twitter.com/H9f0GzrzKk

РKhlo̩ (@khloekardashian) January 5, 2016
Khloe shared that there will be cocktails and fun drinking games and this show is kind of based on the kind of dinner parties that the Kardashian has at her own house. Sorry, and I think I speak for everyone else in saying that if I want to watch a show that has drinking games and cocktails with a reality star, there are well over 100 I'd rather see than Khloe. Can't Andy Dick do something like this? I would pay to see that. I guess good luck Khloe?
Photo via Getty